The Fenty Beauty craze
On Sunday, Sept. 8, pop-star Rihanna released her new beauty line, Fenty Beauty, and it has people incredibly excited. She has released 40 shades of foundation, which is a very expansive range, especially for a brand-new company.
I believe that the line warrants the hype it has received. It is rare for a new brand to have quality products right on release with an inclusive range of shades, at quite a reasonable price starting at $20. The line would still receive a lot of hype, even if it hadn't been started by Rihanna herself.
"I want all women to feel great," Rihanna said to E!. "I want women of all shades to feel included."
Along with the foundation, the line includes "Match Stix," a multi-use cream to powder stick, powder highlighters, brushes, a lip gloss and more. The "Match Stix" can be used as blush, contour, highlight, or eyeshadow. The line mostly deals with face products, aside from the lip gloss.
"Her whole theme behind Fenty Beauty is complexion, just you but better," said Nina Heiman, Fenty specialist at the Sephora in Oak Brook Center.
Just like if any A-list celebrity released a shade-inclusive makeup brand, people have been going absolutely nuts over Fenty. The Sephora at Oak Brook Center and Sephora.com are both fresh out of the majority of shades in the foundation, as well as many of the powder highlighters, especially the iconic shade "Trophy Wife", a unique yellow- gold shade. The fact that the range is becoming limited has actually started fights in the aisles of Sephoras around the country. Most Sephoras have an employee, like Heiman, assigned to the Fenty display all day to not only introduce and explain the products, but to apologize for the lack of inventory as well.
"I swear everything [Rihanna] touches turns to gold," Heiman said.
I had the chance to get the Pro Filt'r Soft Matte Longwear Foundation in 170, and Match Stix in "Trippin," a rosy pink and gold, and "Amber," a cool contour shade.
I was fortunate because I got one of the last bottles of foundation in the store that was my exact shade. Just in my time at the display, four women came by and left angered as their shade was missing. The foundation has a thin and smooth consistency and dries down to matte, however, it doesn't reach the point where it makes any of my combination skin look dry. It has a light-medium coverage that covers mild discoloration, but blemishes still need concealer. It lasts from the morning when I apply it until I remove it after school.
The "Match Stix" shows opaquely on the face. They last almost as long as the foundation. However, their only fault is they must be applied soon after foundation because if your foundation sets, it makes your base peel up underneath.
"My favorite product is the highlighter stick in Confetti," said Kate Jacobs, junior. "It applies easily and is a beautiful color."
If you get the chance to pick up any Fenty products, I suggest giving something a try. Any of the products would be a great addition to a girl's makeup bag. Most products are priced between $20 and $40 and can be found on Sephora.com, FentyBeauty.com, or at a local Sephora.
Leave a Comment
About the Contributor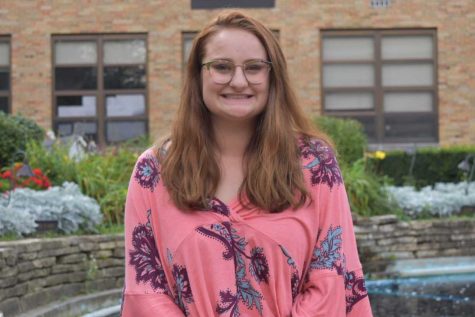 Lauren Wols, Writer
Lauren Wols is a junior who probably has a friend crush on you. If she's not writing for Devils' Advocate, she may be choreographing or doing other...