Return of the uniforms
*Disclaimer: The Physical Education Department was unavailable for an interview.
My Group Exercise gym class, previously called Aerobics, is made up of girls ranging from sophomores to seniors. The girls in my class usually wear athletic gear such as leggings and T-shirts to participate in the toning and sculpting exercises we typically do. However, some days, students in my class can be seen wearing what they wore to school, such as jeans, blouses, and sweaters, only substituting their boots for gym shoes.
Some gym teachers have recently talked to their classes about the possibility of requiring gym uniforms next year. This topic started being discussed because teachers grew concerned with the amount of students not changing for gym.
Personally, I don't think requiring gym uniforms would cause students to participate more in the activities we do. Whether wearing athletic gear or the clothes a student wore to school, the amount of effort he or she puts into exercising probably won't change too much.
"In the winter and fall months I typically keep my leggings on unless I'm wearing jeans," said Lauren Witt, freshman. "I normally keep on whatever shirt I'm wearing, but sometimes I'll change into a short sleeved top. The only thing I change every day for gym is my shoes."
Gym uniforms used to be required at Central, but currently, all gym classes at school do not have gym uniforms under the condition that students provide their own athletic gear to change into for class. This can include leggings, t-shirts, athletic shorts, tank tops, and any other clothing that is suitable for exercise. Additionally, all students are required to wear gym shoes.
"I think making students wear gym uniforms is unnecessary," said Kyle Kroeger, junior taking Fits II. "It reminds me of middle school."
In middle school, gym uniforms were required. At Hinsdale Middle School (HMS), where I went, our uniforms included blue mesh shorts and gray T-shirts with our names on them.
As I recall, at HMS, many students would complain about having to change every day. Once we got to high school, my friends and I were happy to learn that there weren't anymore uniforms.
Additionally, adding gym uniforms for every student at school would cost a great deal of money, whether it comes from families or the school. I think that this money could be used for more serious issues, such as the long debated topic of building a new pool.
Although some students don't change their clothes as often, I haven't seen a decrease in the amount of effort put into the exercises we do. For this reason, we should keep the policy of students bringing their own clothes to wear to gym class and spend the school's money on more significant problems.
Leave a Comment
About the Contributor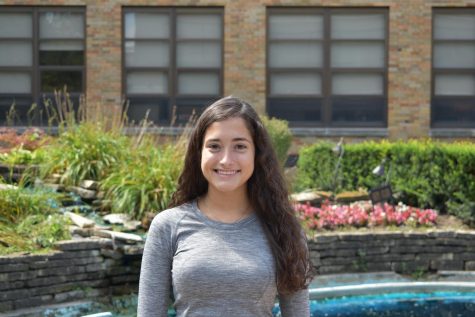 Michalea Halikias, Managing Editor
Michalea Halikias is a senior who can often be found shopping online, listening to music, or hanging out with her friends. She loves watching Master Chef,...