Fergie: National treasure or national embarrassment?
On Sunday, Feb. 18, former Black Eyed Peas artist Fergie sang the National Anthem at the NBA All-Star game. Instead of singing the classical rendition of the patriotic song, however, Fergie decided to jazz up the anthem and sing it in a more sultry, blues-inspired style with growling notes and unexpected riffs.
Unrelenting criticism of Fergie's performance began almost immediately, as viewers could noticeably hear the crowd laughing in the background, see zoomed-in images of players (unsuccessfully) holding back grins, and listen as the announcers commented on her rather, well, unexpected interpretation of the song.
Although my merciful side is begging to pity the poor popstar for these ceaseless attacks and disapproval that she faced both on live television and on social media, I can't help but think that Fergie brought this sticky situation upon herself.
Courtesy of ESPN
The purpose of singing the National Anthem before sporting events is to honor those who are fighting to protect our country and promote a sense of national unity amongst fans despite local team divisions.
When Fergie performed though, I didn't feel this sense of urgency to honor the armed forces that is often felt at other events. Instead, I felt as if she was exploiting the song and distancing herself from the true purpose of the experience just to gain publicity.
Just a day before Fergie's performance, Kate Melvin, junior, was selected to sing the National Anthem at the IHSA Wrestling State Finals in Champaign, Ill. In contrast to Fergie's performance, Melvin felt it would be best and most respectful to perform the anthem traditionally, and she is yet to receive a negative review.
"[Singing at State finals] made me proud of our country and thankful for the freedoms we have," Melvin said. "[Fergie's performance] seemed to be disrespectful to our country and those who have served and seemed to be a ploy to get the media's attention."
In response to the criticism and repercussions Fergie faced, she attempted to justify the performance by arguing for the artistic creativity behind her interpretation of the song.
"I'm a risk taker artistically, but clearly this rendition didn't strike the intended tone," Fergie said in a statement on Monday, Feb. 19. " I love this country and honestly tried my best."
Now don't get me wrong, as a former musician and dancer, I completely understand the importance of creativity and freedom of interpretation when it comes to the performing arts. With that being said however, I feel like it's common sense that you shouldn't rearrange a song that has stood the test of more than 200 years without expecting some sort of backlash.
To cut Fergie some slack though, it can be considered admirable that she, despite all the signs recommending that she not recompose the piece, unforgivingly performed true to her style.
"The only reason Fergie received such hostile responses was because she didn't sing the National Anthem true to the score. Though her tonality was not on queue with more conditional singers, Fergie did an adequate job in withholding her own unique style," said James Hsiao, senior chamber choir member and experienced performer of the National Anthem.
Ultimately, I can understand where Hsiao is coming from, however I feel that if Fergie's main goal was show off her unique style, then she should have searched for a different venue or event or waited until halftime to do so, rather than exploiting and embarrassing a national tradition in the process.
Leave a Comment
About the Contributor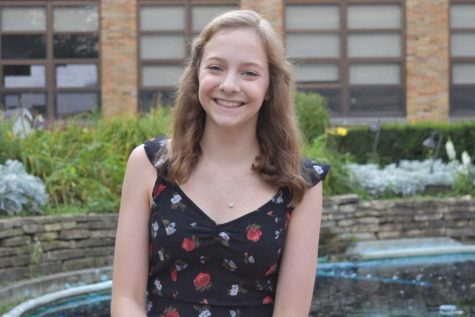 Abby Stockmal, Editor-in-Chief
Abby Stockmal is a senior who, when not scrambling to finish an essay she that she procrastinated, can be found watching reruns of "Friends", making an...