Should we offer free test prep?
Recently, Glenbard Township High School District 87, the third largest school district in Illinois, has decided to offer free SAT classes for its juniors after school. The classes are twice per week for three hours each, and they are a mix of group work, teacher instruction, and individual assessment. The course started on Monday, Jan. 29 and will end on Thursday, April 5, right before the free SAT administered to all Illinois schools on Tuesday, April 10.
The idea of free SAT classes is one, I feel, should be adopted by District 86, as well as other high schools in the state. For juniors, it is most likely necessary to take at least one of these college entrance exams, and preparation is recommended to score well. The type of college entrance exam students take often depends on the college they want to apply to; some colleges don't accept the ACT, but all (in the U.S.) accept the SAT.
Many juniors want to score well on these exams to have a better chance of being accepted to certain colleges and to receive good scholarships from universities. For this reason, they often are inclined to take SAT or ACT prep courses or go to private tutoring sessions so that their score will increase, and these are not cheap. Looking at Princeton Review, a very popular exam preparation company, its Ultimate Classroom package is priced at $1099, and its 10-hour private tutoring starts at $1800.
I enrolled in Princeton's SAT Ultimate Classroom back in September, and what we did in class doesn't seem much different than what Glenbard is offering its students for free. We would use a workbook and go through tactics to do well on certain parts of the test with the teacher explaining how to apply the tactics to the test. The Glenbard District SAT class consists of 50 hours of classroom preparation, while Princeton's SAT class only consists of 25 hours.
While some students are willing to pay for these classes and can afford them, there are many students at both Hinsdale Central and Hinsdale South who are missing the opportunity to reach their full potential by not receiving instruction on how to test. At Central, 7.8 percent of students come from low-income families, and at South, it is 30.8 percent. For these students and many others, spending money on optional SAT classes might not be a priority.
Luckily, our school still gives students from low-income families an opportunity for guided test preparation. On weekends, test preparation companies rent out classrooms at our school, and in exchange, they offer eligible Central students free or reduced charge for the class. However, there are still many people who aren't eligible for this and go without test preparation, but the Central administration feels it isn't necessary to instruct kids on how to test.
"We as a school believe that the academic guidance and standards we have at our school are enough for students to score well on standardized test, so we try to stay out of the whole SAT/ACT world," said Ms. Hurt, assistant principal. "However, not many parents agree with that and they just want their kids to score well."
Based on the course description, it is estimated that with the Glenbard course students could increase their score by an average of 115 points. When I took the SAT course at Princeton, I was able to increase my score by 130 points as well, which I don't think I would have been able to do without some instruction and guided practice. If the students had the option of taking a preparation course at a familiar place, their own high school, free of charge, I think many students would be inclined to join.
Offering a free SAT class will be beneficial for the school as well. Since all juniors will take the SAT in April, their SAT scores will reflect on the quality of the school and the district in general. And if juniors take these classes, there is a much better chance that they will score higher than they would have without them. Even though our district has already been labeled as high-achieving based on our standardized test scores, further improving the average of the school would still benefit the school greatly.
Leave a Comment
About the Writer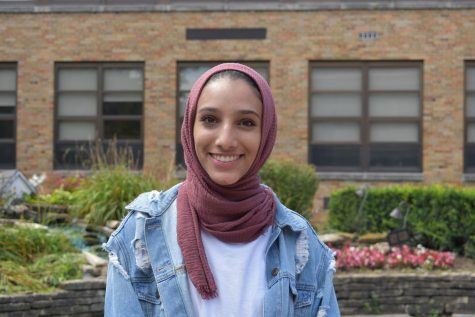 Hajera Naveed, Section Editor
Hajera Naveed is a Senior Writer and Section Editor for Devils' Advocate. Her hobbies include writing, volunteering, painting, and running. When she isn't...