The ultimate summer bucket list
With only 15 days left until summer, many students are beginning to plan ideas for what they want to accomplish before the next school year starts. To maximize your days of summer vacation, I have listed several different activities to do so that your summer does not fly by.
Hang out with friends you haven't seen in a while. It is always nice to spend time with old friends or just friends that you miss. Seeing them this summer will provide a memorable experience.
"The top thing on my bucket list this summer is to go to California and hang out with all of my friends and go to the beach and have a bonfire because I moved from there and I miss them," said Tea Pantelic, sophomore.
Plan a day trip to the beach. Chicago has many beaches to offer such as Oak Street Beach and North Avenue Beach to spend time in the sun and sand.
Go to a music festival or a concert. Many students have already purchased tickets to Lollapalooza, the renown four-day music festival in Chicago, but that is not the only concert you can attend. Some concerts or music festivals that will take place are Beyoncé at Soldier Field on Aug. 10, Country LakeShake from June 22 to June 24, Taylor Swift at Soldier Field on June 1, and more.
Visit a Farmers' Market. The Hinsdale Farmers' Market features small food vendors from all over Illinois, Wisconsin, and Michigan each Monday. It begins June 4 and ends Oct. 8 and takes place at Burlington Park, 30 E. Chicago Ave.

Hang out with family. Although you can do this any time of the year, it is especially valuable to spend time with cousins or family members who may be leaving for college at the end of summer.
"I want to have a sleepover with all of my cousins this summer. We were talking about that, and a lot of them leave for college soon," said Shreya Doshi, junior.
Have a picnic. Whether it is with friends or family, having a picnic with good food and good company will make for a perfect summer day. There are many grass areas around Hinsdale to have a picnic in, like Robbins Park and Katherine Legge Memorial Park.

Go biking or rollerblading. Going on a bike ride or going rollerblading is a great way to spend a summer day because it allows you to have fun while being active. Some places to bike or rollerblade are Katherine Legge Memorial Park, Prospect Park, and Burlington Park.

Make something from scratch. Even making something as simple as lemonade can be a fun summer activity to do solo or with friends. Or, you can bake a dessert and hand it out to your friends to make their days. Click here for a list of summer recipes.

Go downtown. To spend a day in the city, you can take a train from the Hinsdale train station to Union Station in Chicago or drive. Once you get downtown, there are many options. You can go to the beach, go shopping, go to a restaurant, go to the zoo, or do many other activities.

Have a bonfire. My idea of a perfect summer night is having a bonfire and making s'mores with my friends. Whenever I smell fire, I am reminded of fun summer memories, and I'm sure you will be reminded too.

Go to a drive-in movie. By going to a drive-in movie theater such as MOO-V-Night in Westmont, you can feel like it's the 1950's for a night.
Hopefully, with these activities, your days of summer will be meaningful, memorable, and won't go by too fast before the 2018-2019 school year starts.
Leave a Comment
About the Contributor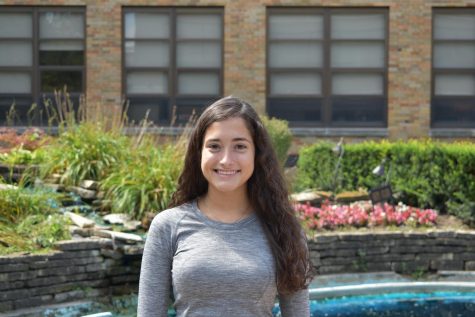 Michalea Halikias, Managing Editor
Michalea Halikias is a senior who can often be found shopping online, listening to music, or hanging out with her friends. She loves watching Master Chef,...