Serena Williams makes a racket at US Open
On Saturday, Sept. 8, Serena Williams faced Naomi Osaka in the final match of the U.S. Open. However, in this match, the rivalry wasn't between Williams and Osaka but rather between the umpire and Williams.
The umpire, Carlos Ramos, issued a penalty to Williams for coaching, which was because he saw Williams' coach, Patrick Mouratoglou, signaling to Williams. Williams repeatedly argued with Ramos and proclaimed that she wouldn't cheat, breaking her racket in frustration.
Because Williams' continuous argumentation, Ramos issued Williams another two penalties for arguing and breaking her racket. This was what caused the most controversy.
Williams said that she would rather lose than cheat, as she wanted to set an example for her daughter.
However, in a recent interview, Mouratoglou admitted to coaching and signaling.
Several headlines and Williams suggested that sexism was one of the motivating causes behind Ramos issuing the second and third penalties to Williams. This seems like a reasonable point when you see videos of male tennis players screaming at umpires and getting no penalties.
Although, many point out that in every sport, it falls on the player to have good sportsmanship and stay focused on the game or match. If the umpire is biased towards anything and penalizes unfairly, the best players shouldn't let that affect their performance.
It is understandable that Williams would want to protect her reputation and argue against cheating. However, I would think that a player as experienced as Williams would be able to continue playing. In general, one would expect Williams to handle the situation more professionally.
"Williams is a phenomenal player but it's too bad that she couldn't keep her head in the match and try and pull it out," said Mrs. Shawna Zsinko, girls' head coach of tennis.
Others say that tennis players aren't always the most trustworthy. Marcos Lopez, junior tennis player, said that matches against New Trier, the boys' tennis team's biggest rival, had to be closely watched as tennis players would cheat.
"Last year, in particular, there were a number of matches against them where our coach, Mr. Naisbitt, had to sit with our player because their player was throwing towels, rackets, and yelling inappropriate things and penalties had to be assigned," Lopez said.
Additionally, the umpire's call cannot be argued with, and if a player argues against the umpire, the umpire has the right issue another penalty if they feel violated.
"One time, I called a ball out but the umpire changed my call to in, even though I showed him the ball mark," said Carolyn Ahn, junior tennis player.
Overall, Ramos' penalizing was fair as he was following the tennis rules correctly. If anything, Williams could have been removed off the court.
Eight days after the final U.S. Open, on Sept. 16, Ramos issued a similar warning to a male tennis player, Marin Cilic, who broke his racket out of frustration as well. This just goes to show that Ramos is just doing his job and issuing penalties when needed.
Leave a Comment
About the Contributor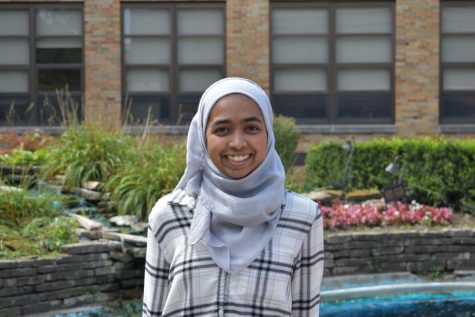 Saba Ali, Editor-in-Chief
Saba, senior, is a chocolate vacuum (basically eating any chocolate in sight) and a nap queen, who can take a nap virtually anywhere. She loves Ben &...