Questions raised over SNL's "censorship" of Kanye
On Saturday, Sept. 29 the Saturday Night Live's cast and audience witnessed Kanye West deliver an unplanned pro-Trump speech at the end of the show. West was a fill-in musical guest for the premiere of SNL's 44th season after Ariana Grande canceled.
West was supposed to provide a musical intermission of sorts. Instead, he gave two mediocre performances and the third ended in an awkward rant with him getting booed at by the audience, and the cast members standing in the background looking uncomfortable.
However, West's speech never made it to air, with SNL cutting it out of the show, immediately getting the ire of many conservative voices. Many said SNL's "censorship" was against the first amendment right of West and raised the debate about whether this was a deliberate attempt by SNL to censor a pro-Trump rant or were they just out of time.
Those that say SNL was censoring West and not allowing him to express his First Amendment rights are incorrect. That argument is false as the First Amendment clearly states that "Congress shall make no law . . . abridging the freedom of speech". The keyword in the amendment is Congress, the government is not allowed to block someone from speaking their mind, however that doesn't mean a public TV show isn't allowed to have their own rules about what is said to its audience.
"I don't think it was appropriate for Kanye to do a pro-Trump [speech] at the end of the episode because people who watch it and some of the actors on SNL don't agree with his views," said Julia Hanley, junior. "I know SNL has done things like this in the past, but it was more to be funny and then serious."
There are certain rights that even private entities cannot violate, like discriminating against someone based on race or sex or age, but not for first amendment speech.
SNL and its creator, Lorne Michaels, have the right to cut off West's rant and not run it.
SNL cast member Kenan Thompson shared his experience being backstage during West's political speech with Seth Meyers while on the Late Show.
"We're all entitled to our own opinion — I don't know if that's the moment, necessarily to hold people hostage like that," Thompson said. "I felt so bad for those guys (fellow cast members) because it's hard to stand there and not be able to debate somebody who's going so far against your personal opinion as well, and just stand there and take it."
West filled in at the last second for Ariana Grande as the musical guest dropped out for "emotional reasons". West wasn't even there as the host, with Adam Driver taking that role, so he had no reason to start spouting his love for President Trump. He was there to perform his music and to promote his album "Yhandi", which was supposed to be released on the same day.
SNL in the past has edited and banned certain guests from returning because of offensive or controversial language. They did so when Sinead O'Connor infamously ripped a photo of then Pope John Paul II in protest of sexual abuse within the Catholic Church. This achieved the desired effect of outrage and led to O'Connor being unofficially banned from SNL.
It's not a surprise that people came to the conclusion that SNL censored another artist. Even President Trump responded to Kanye West's appearance on SNL, praising him for promoting conservative voices and values.
"Word is that Kanye West, who put on a MAGA hat after the show (despite being told "no"), was great. He's leading the charge," said President Trump.
SNL in the last couple of years has seemed to turn to target Republicans and conservatives, especially with President Trump in the White House, making many feel like they are being attacked. So when West decided to publicly support the president, and then have it be cut from the show, conservatives thought that SNL was censoring this endorsement. They believed that SNL was supporting liberals again by not allowing West's opinions to be heard.
However, SNL satirizes all presidents, although given former President Obama's demeanor, there wasn't as much material.
Ultimately, West had one job to do and that was to perform his music and the public shouldn't have to be forced to listen to his tirade.
Leave a Comment
About the Contributor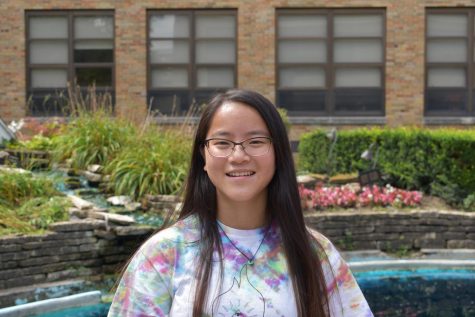 Lia Reichmann, Editor-in-Chief
Lia Reichmann, senior, is well versed in anything to do with Friends, Harry Potter, and sports. She likes to go backpacking and taking photos (follow @liareichmann_photography...