Students should head to polls
As the Nov. 6 midterm election approaches, the younger generation of voters is urged to vote.
In the midterm election, voters will elect state governors, representatives, attorney generals, secretaries of states, and other state officials. Additionally, local officials will also be elected. Locally, residents under District 86 will vote for the referendum.
Even though this election isn't as big as a primary election, I think that it's still important that everyone who is able to vote does so. This is because our generation likes to protest and go to big rallies to make their opinion heard. These protests and rallies don't do anything besides spread awareness. The only way to get your opinion heard is by voting. When you vote for a politician who represents your political views, your opinion is heard and acted upon.
This year, several advertisements have been released to encourage the younger generation to head to the polls on Nov. 6.
NowThis News released a video of the older generation mocking the younger generation about how older people vote at every election and decide each political leader, whereas younger people fail to vote and don't get to elect the right officials.
The company has also released videos of famous figures, like Yara Shahidi, explaining why midterms matter and why the younger generation should vote.
NowThis News
Although several seniors want to vote, few are able to due to age restrictions. McKenna Hayes, senior, is among the majority of seniors who are unable to vote as they are under 18.
"I do know a few seniors voting, but it's not really a big topic in my classes, so I'm not sure how many people truly will be, especially since most of them aren't 18 yet," Hayes said.
Additionally, some believe that if seniors were to vote, they vote based off of their parents' opinion rather than their own.
"I think that a lot of students don't take the time to time to truly learn what they want or what their political views are," Hayes said.
Despite this, voting is still a civic duty that is important to participate in.
"Whether or not you have the same opinions as your parents, you should still vote," said Kyra Graeb, senior.
Depending on where you are registered to vote, the local polls can be found here: link.
Leave a Comment
About the Contributor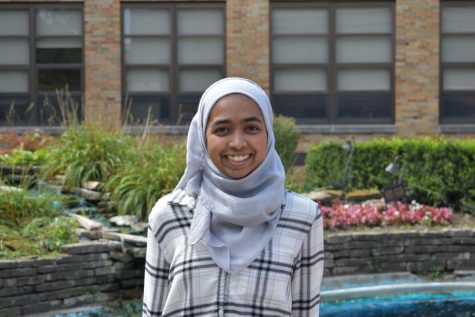 Saba Ali, Editor-in-Chief
Saba, senior, is a chocolate vacuum (basically eating any chocolate in sight) and a nap queen, who can take a nap virtually anywhere. She loves Ben &...