Seniors stand out with dress days
As the football season begins, the senior student council scheduled dress days for seniors. These themes are meant to be worn on Fridays at school and at each football game, home or away. It is a tradition for seniors to wear these outfits the day of the game.
Spirit days for seniors, in particular, are not only a great way for students to express school spirit, but they can also set a positive example for the underclassmen.
"Senior dress days are a lot more important than other dress days for other years because it's the year everyone can kind of express themselves without issues," said Nicole Hutten, senior.
However, a con to dress days is the pressure that inevitably comes along with it. Some students may feel inclined to conform and unwillingly participate just so they are not the odd one out.
"One thing I know I don't like about it is that I feel like it makes people feel like they have to do it or else they'll stick out or people will say something to them about not doing it," said Julio Martinez, senior.
The 2019 football season official spirit days are the following: beach day, toga day, neon, nerd day, blackout, USA day, pink out, tennis and golf or Aspen ski, and Hinsdale red out.
"I really like most of the senior dress day options at Central because they're wide-ranging and there's something for everyone," said Rima Rafiq, senior. "My favorite is probably the golf and tennis one because I think it represents Hinsdale's vibes well."
Aspen Ski day is one of the dress days that has caused some controversy and confusion among the class of 2020. Students question how clothing associated with winter and snow would work on a warm September day.
"I think Aspen Ski day is hard because nobody owns ski clothes or is going to wear them when it's warm outside," said Jess Moniuszko, senior.
The next game you can show Red Devil spirit is on Sept. 13 against Hinsdale South. Additionally, students and staff are encouraged to participate in all dress days the week of homecoming and kick off homecoming week on Friday, Sept. 20 with spirit wear in a class color competition: freshmen: yellow; sophomores: orange; juniors: white; seniors: black; staff: red.
Leave a Comment
About the Contributor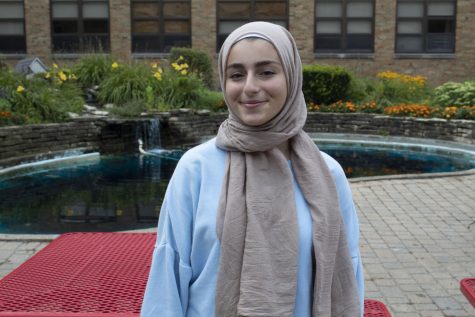 Lana Jawich, Section Editor
Lana Jawich is a senior writer for Devils' Advocate who enjoys painting and playing soccer. When she's not annoying her siblings or spacing out in physics,...