The cafeteria fails to cater to the tastes—and health—of students
On any one day at Central, hundreds of kids stream into the cafeteria, still reeling from the tests, projects, presentations, and discussions they participated in throughout the morning. These students rush to the cafeteria, in dire need of some fuel to power them through the rest of the day.
But, instead of the fuel they seek to provide nourishment and help develop their brains, Central students face a depressing, unappealing array of unhealthy foods, slathered in grease, fat, and sugar—and it's time for this to change. Students shouldn't have to settle for the unhealthy food offered by the cafeteria, as schools should provide students with nutritious options that will help establish healthy eating habits.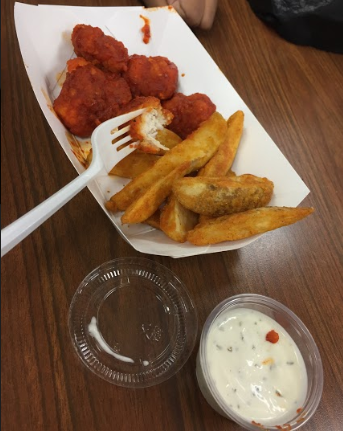 School cafeteria food has seemingly always been under intense scrutiny, with generations of high school students complaining about the lack of taste and variety in regards to the food options available. Numerous films, books, and studies have been released detailing the danger of cafeteria food, but real, effective change has yet to reach the plates of America's students.
In 2013, 11-year-old Zachary Maxwell recorded an undercover film titled "Yuck: A Fourth Grader's Short Documentary About School Lunch." In this video, Maxwell exposed to the world the reality of American school cafeteria food: seemingly undercooked meat and noodles, watery pasta sauces, unappetizing vegetables that looked past their "sell by" date, soggy French fries, etc.
The reveal of a typical school lunch menu precipitated intense backlash and inspired concerned parents, students, and lawmakers to band together to amend the school lunch system. U.S. schools were encouraged to include healthier selections and choices that cater to the needs of students with dietary restrictions.
However, even after Maxwell's film opened the eyes of many to the dire changes school cafeterias need to undergo, many schools still have a lot of work to do—including Central.
According to the DuPage County Health Department, there have been 15 health code violations since 2017 by Central's cafeteria. The fact that our nation's youth is consuming food from a cafeteria that has repeatedly violated the health code is appalling. When asked to respond to these violations, the cafeteria declined to comment.
Although, Central's cafeteria staff said that in contrast to the school portrayed in Maxwell's film, they cater to the wants, needs, and well-being of students.
"Our menus and specials are worked on daily and we listen to what the students suggest," said Ms. Kristin Krasprzak, food service director.
Quest Food Management Services, the company that provides the cafeteria with its food, argues that it significantly expanded its menu to include many diverse, unique foods.
"We have expanded our Grab-n-Go options, increased our menu of handcrafted drink, and have been trying new flavors with our Anne's Yogurt," Krasprzak said. "We also have different culture and ethnic background dishes."
Many students assert that Central's cafeteria has a long way to go, as it doesn't provide nutritious meals, and it reflects more of a fast-food joint.
"I feel that a lot of the school cafeteria food is unhealthy and not very good," said John Malec, sophomore. "They could offer a better selection of healthier food items."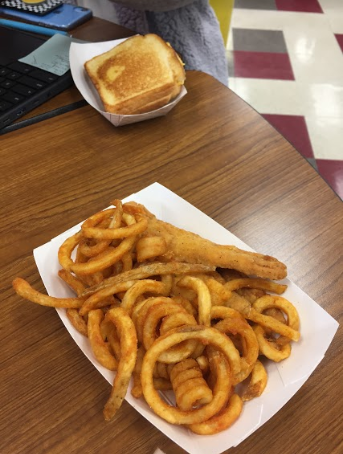 Many students also complain about the menu being repetitive and monotonous, with the same unhealthy foods, such as French fries, fried chicken, and pizza, being offered daily, while the healthy options, such as salads, are being offered only one or two days a week.
"The food is honestly only good when you're a freshman and survive off curly fries and grilled cheese," said Raina Jain, junior. "Otherwise, it's unhealthy and greasy."
Although some students were concerned about the rising prices of cafeteria food from last year to this year, others didn't notice a considerable increase. According to Krasprzak, contrary to rumors that all food prices were raised, the prices of only 15 items out of a total of 300 items were increased.
"It's pretty expensive, but there wasn't much of an increase from previous years," Jain said. "For the increases I did notice, I understood the justification for them due to rises in food costs."
Looking forward, the cafeteria should alter its menu, ingredients, and preparation to create a healthier array of foods. It should limit the number of unhealthy foods it offers, or at least sell reduced-fat options. The obesity crisis is serious—and cafeteria food definitely contributes to the high obesity rates among children. Students deserve better than the food at the cafeteria, which is often covered in grease, fat, sugar, and unnecessary calories.
Leave a Comment
About the Contributor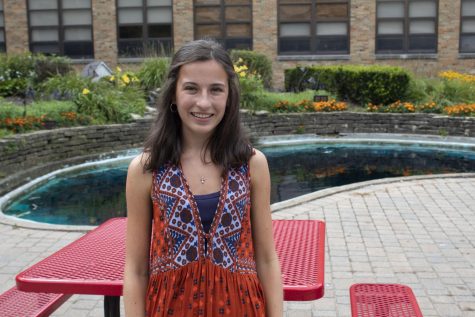 Olivia Ostrowski, Editor-In-Chief
Olivia, a senior, is excited to be apart of the Devils' Advocate team. She loves playing tennis and lacrosse, and competes in these sports at Central....