Lovely Locales
In need of a great place nearby? If you're looking for a delicious meal or your next favorite book, you won't have to travel far
My friend group is horrible at making decisions. Whenever we're trying to decide where to go, what to eat, or what movie to see, we hem and haw for eternity – and I am definitely guilty of saying 'I'm OK with whatever' to avoid making the decision.
But there are some places that we keep coming back to that branch out a little from a typical Starbucks run (though heaven knows we make plenty of those) and are more local – they're really fun to check out on a whim or on a planned day out.
One locale that I love visiting is the Little Creperie in Clarendon Hills, located at 102 S. Prospect Ave. This little restaurant is absolutely adorable. With the menu written on the walls and both indoor and outdoor seating, the Little Creperie has a quaint and fun atmosphere. 
"It felt like you could experience France without actually going there," said junior Katelyn Ulrich, adding that "the prices are reasonable and the crepes are super delicious." 
Personally, I highly recommend the strawberry crepe, but there are options for everyone. 
Another business is Anderson's Bookshop – a fifth-generation family-run business that is book heaven.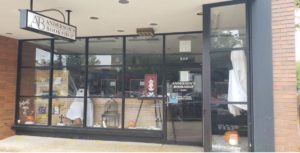 "Anderson's…is such a cute atmosphere with a local personality," said Leah Bradley, junior. "Everyone who works there is super kind and always willing to recommend a book or several." 
Anderson's also hosts events with authors, offers autographed book copies, and is an award-winning business. The ambiance here is fun and relaxing, with a wide selection and great staff – I love perusing the aisles and always end up spending more time there than I expect (and leave with more books). 
So this weekend, gather up some friends and visit these businesses! This is one decision that's quick and easy for even the most indecisive of friends (myself definitely included.) 
Leave a Comment