The 3 best inexpensive holiday visits in Chicago this year
As the holiday season approaches with more intensity, those looking for fun and inexpensive activities will have several options this season in Downtown Chicago.

Following last year's global pandemic, many Chicagoland citizens and visitors were deprived of holiday celebrations which will now be reopened for in-person enjoyment.
With the 2020s traditional Christkindl Market being virtual, the German-inspired market has resurfaced as well as the Annual Christmas tree, and Maggie Daley Ice ribbon, for those who enjoy gliding across frozen ice. The holiday spirit has returned, and traditional joyous activities will be welcomed once again. Surely, the City of Chicago has put forth regulations to support the safety of visitors by strongly encouraging masks and providing visitors with free masks, while supplies last.

The excitement of holiday activities fills the streets of Chicago as visitors and locals find it difficult to contain the excitement. For those struggling to get into the holiday spirit, the bright lights and jingle bells will surely lighten up the mood as well as the array of locations to visit free of cost. That is right, FREE.

The chilly Chicago winter invites the Maggie Daley Ice Skating Ribbon, which opened this past Nov. 19 and will remain open into mid-March. Released on the same day, the official city of Chicago Christmas tree located on Michigan Avenue will remain open through Jan. 9. The Christkindl Market will remain open from 11 a.m. to 9 p.m. through Dec. 24.

Christkindl Market
According to the Christkindl market's website they described the 2020 experience by stating that "Visitors were able to enjoy the tradition from the comfort and safety of their homes through the first-ever virtual Christkindl market 'Home for the Holidays'".

Inspired by the 16th-century Christkindl market in Nuremberg, Germany, the market invites guests to check out the high-quality venues and will offer spiced cider, shopping, and entertainment for anyone strolling down Washington Street.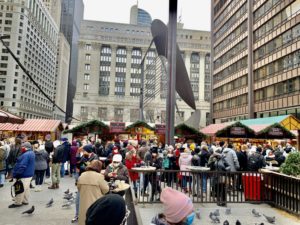 Considering that the Christkindl
market attracts more than one million visitors per year, there might be a line to enter the venue. The
Christkindl market has the potential to teleport visitors into a complete holiday experience and
leave them with warm wishes this holiday season.
When visiting the Christkindl market it is important to note that it is located right downtown, in
the loop, on Washington Street. Less than a mile from Union Station, those concerned with
parking can easily hop on the local train and walk 15 minutes straight to the event.
The Annual Christmas Tree
Each Year right after Thanksgiving, Chicago lights up its annual Christmas tree, this year
marking the 108th annual celebration. Last year's tree lighting celebration was virtual, but this
year welcomes many visitors.
Located right downtown in Millenium Park, the 51-foot blue spruce tree was donated by the
Benavides family of Chicago's Logan Square. Visiting the tree is free of cost and it will remain lit
each day from 6 a.m. to 11 p.m. and will remain lit for 24 hours on Christmas Eve.
The Annual Christmas Tree is dedicated to the leadership in "Powering Chicago" throughout the pandemic. Masks are encouraged, and many of the local venues around the tree are providing free masks to visitors, as well as food and beverages to enjoy.

When visiting the tree, it is important to consider the sheer size of the tree when it comes to snapping a good camera angle. As well as helping the occasional visitor with a whole family photo so no one is left out. No matter what you might celebrate, Chicago's annual Christmas tree can be a beautiful family experience and something you would not want to miss this holiday
season.

Maggie Daley Ice Skating Ribbon
Located in Maggie Daley Park, the Ice-Skating Ribbon can be a perfect day trip for those who enjoy being active and winter sports. Although the 2022 Winter Olympics might inspire some Ice Skating tricks, don't get too confident on the Ribbon or else it will end up in a hilarious blooper.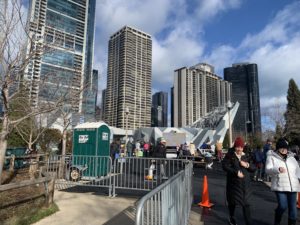 The Ice-Skating Ribbon that spans 0.4 miles of Maggie Daley Park welcomes visitors to skate for free if they bring their own ice skates or 18-dollar walkups. Prices may decrease as reservations are strongly encouraged and can be made on the park's website.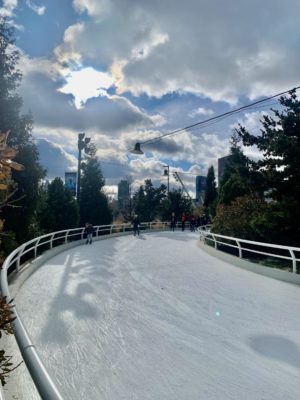 The ribbon can be a wonderful way to try out an original activity or to practice some skills. No matter what level of skater you are, it is an incredibly fun, and affordable way to get some exercise, pictures, and entertainment. The Ribbon will remain open until March 13 and hours are visible on their website.
Leave a Comment