I met Taylor at midnight: my thoughts on "Midnights" by Taylor Swift
Taylor Swift released her tenth (and highly anticipated) original album, "Midnights," on Friday, Oct. 21 at midnight EST. However, because of the blessing that is Central Standard Time, Central students got access to this album at 11 p.m. Thursday night. 
"We lie awake in love in fear, in turmoil and in tears," Swift wrote in a statement about the album on her Instagram. "We stare at the walls and drink until they speak back. We twist in our self-made cages and pray that we aren't – right this minute – about to make some fateful life-altering mistake." 
Swift also said that this album is filled with songs written during "13 sleepless nights scattered throughout [her] life." 
"[This album is] for all of us who have tossed and turned and decided to keep the lanterns lit and go searching – hoping that just maybe, when the clock strikes twelve…we'll meet ourselves," Swift wrote in the same statement. 
Additionally, Swift introduced a series titled "Midnights Mayhem With Me" on her (not so) private TikTok account, where she has a following of 14.8 million, on Sept. 20. Sitting in front of a brown velvet curtain, she "[leaves] it up to fate" by using a golden bingo wheel and a red rotary phone to reveal her tracklist one song at a time. 
"I know that I have a habit of dropping cryptic clues and easter eggs when giving you information about new music – and I'm not here to deny that-but I am here to defy that," Swift said in her first video in the "Midnights Mayhem With Me" series. 
Swift announced a collaboration with indie-pop icon Lana Del Rey on the last episode of "Midnights Mayhem With Me." The collaboration is on the fourth track, "Snow On The Beach." 
With almost 90 thousand comments on this TikTok video, it's safe to say that many fans were excited. TikTok user @tehekaitehe commented "FEATURING LANA WE WON," which received 105.2 thousand likes. The official account for TikTok said "this is literally the best ending to [Midnights] mayhem [With Me]."
However, when "Midnights" was released, many fans were disappointed. 
"My current favorite songs on 'Midnights' are 'Lavender Haze,' 'Karma' and 'Would've, Could've, Should've,'" said Grace Fan, junior. "'Snow On The Beach' played me for a fool though. I played the song twice, waiting the whole time for Lana's lines, but alas, we were robbed."
In more exciting news, Swift released "Midnights (3am Edition)" at 3am EST (fitting really) the same day the main album was released. The 3am Edition added seven new songs that didn't make the cut on the main album.  
Swift has also released five editions of her album on vinyl: "Moonstone Blue," "Jade Green," "Blood Moon," "Mahogany" and "Lavender" (which is a Target exclusive). All of these colors also come in CDs and cassettes. Swift revealed on her Instagram and TikTok that the back covers of the first four vinyls, when put together, make a clock design. 
 My top three songs in "Midnights" (including "3am Edition"): 
#3: "Bigger Than The Whole Sky"
"Bigger Than The Whole Sky" is the second track added onto the album with the 3am Edition. 
I'm personally a huge fan of Swift's more melancholic indie-style music (i.e. her previous albums "Folklore" and "Evermore"). This song, in my opinion, perfectly blended that style with a subtle pop sound.
"Bigger Than The Whole Sky" is about unexpected, long-lasting grief. 
"Though Taylor doesn't explicitly state the type of loss in 'Bigger Than The Whole Sky,' the lyrics hit hard for anyone who's lost someone unexpectedly," Fan said. "The song takes you by the ankles and drags you through the stages of grief."
My favorite lyric:
"No words appear before me in the aftermath
Salt streams out my eyes and into my ears
Every single thing I touch becomes sick with sadness
'Cause it's all over now, out to sea"
#2: "Vigilante Sh*t"
While "Bigger Than The Whole Sky" has "Folklore" and "Evermore" vibes, the eighth track on the album, "Vigilante Sh*t," reminds me of "reputation", one of Swift's more controversial albums that was released in 2017.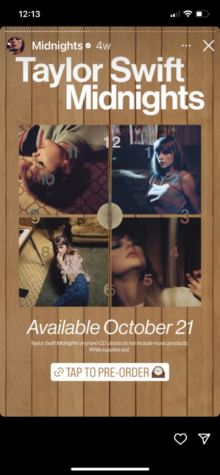 "[The song] is reminiscent of reputation, especially [the song,] 'I Did Something Bad,' with dark basses and Taylor's lower voice," Fan said.
Fan also said that "Vigilante Sh*t" reminds her of "no body, no crime" from Swift's album "Evermore," as well as alternative pop singer Billie Eilish's early music. 
"Vigilante Sh*t" is edgy and clean-cut and the perfect song to listen to when you're at school pretending to think you're better than everyone to feel something.
My favorite lyric:
"I don't dress for women
I don't dress for men
Lately I've been dressing for revenge"
#1: "Would've, Could've, Should've"
If there's anything that Swift writes about frequently in her songs, it's heartbreak. A prominent example is with conspiracies sparking regarding Swift's past relationship with Jake Gyllenhaal around the release of "Red (Taylor's Version)". In addition, some of her most popular songs, such as "Shake It Off" (1989), "Cardigan" ("Folklore") and "All Too Well" ("Red", "Red (Taylor's Version)") exudes the vibes of someone who had their heart broken, all in different musical styles. 
Fan thinks that "Would've, Could've, Should've" is about Swift's ex John Mayer, similar to her song "Dear John" on her 2010 album, Speak Now. She also appreciates the more bitter tone the song has, in comparison to more upbeat, poppier songs earlier in the album. 
Others also believe that "Would've, Could've, Should've" is one of Swift's best songs to date.
"'Would've, Could've, Should've' is, in my opinion, one of her best songs lyrically and production-wise because of Aaron Dressner [collaborator and producer, as well as the guitarist of The National]," said Saanvee Tewari, senior. "It's a haunting song with one of her best bridges."
There were too many great lyrics in this song to just pick one, but I had to pick one. Don't get mad at me if I didn't pick your favorite part of the song, I'm just doing my job here. 
My favorite lyric:
"God rest my soul
I miss who I used to be
The tomb won't close
Stained glass windows in my mind
I regret you all the time
I can't let this go
I fight with you in my sleep
The wound won't close
I keep on waiting for a sign
I regret you all the time"
Overall, I really liked this album after listening to it for the first couple of times. It was hard to pick a favorite song, or even a top three, out of 20 beautiful songs.
I'm glad she is writing more pop music again, and I'm not a Taylor Swift purist, but I would've liked to see more indie-esque tracks.
"I personally haven't listened to all of 'Midnights,'" said Kiran Gitzlaff, junior. "It's too poppy [for me. I prefer her] cool, mysterious, and folk-esque music, like her collaboration on Red (Taylor's Version) with Phoebe Bridgers."
On the other hand, Tewari likes the change of pace.
"[Swift's] 'Folklore' era is still my favorite but her '1989'-esque return to pop shows her versatile style and I was pleasantly surprised by it," Tewari said.
Will my opinions change? Maybe. Give me a week to listen to the album a dozen more times, then ask me if I feel the same way.
According to Spotify, "Midnights" broke the record for most-streamed record in a single day. Before "Midnights," Bad Bunny's album "Un Verano Sin Ti" was streamed 183 million times in 24 hours. Swift beat this record by 2 million more streams worldwide. 
Next year, Swift is set to go on her first tour since her Reputation Tour in 2018, according to Pop Buzz. Information on dates, venues and tickets are yet to come.
Leave a Comment
About the Contributors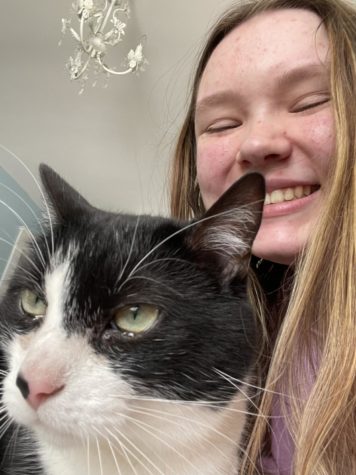 Caroline Petersen
Caroline Petersen, junior, is excited to be joining the Devil's Advocate team. She has written for the publication as a contributor since freshman year....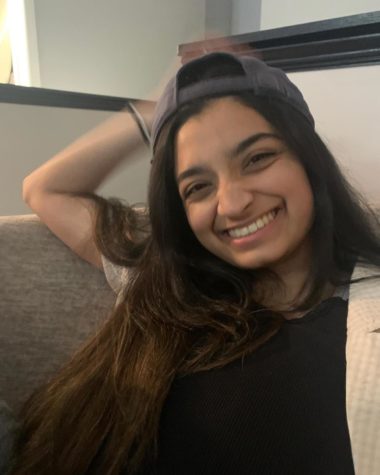 Simrah Qasim, Editor-in-chief
Simrah Qasim, senior, is excited to be returning to devil's advocate. She loves listening to music, writing, and playing the piano. Along with Devil's...