Rachel's guide to the best Thanksgiving episodes
It's almost Thanksgiving! And Thanksgiving is the lovely time of year dedicated to family, friends, football, food, and of course, a little bit of drama. And what explains this dynamic better than your favorite TV shows. So, here's my "must watch" list for this Thanksgiving.

Gossip Girl
Season 3, Episode 11: "The Treasure of Serena Madre" 
This is one of the most iconic Gossip Girl episodes of all time. And like any true Gossip Girl episode, secrets are revealed and rumors are spread. But the most iconic scene people often recall from this episode is the dramatized portrayal of characters standing up and leaving the table during their Thanksgiving dinner, while Jason Derulo's "Whatcha Say" plays in the background.
Stream it on HBO Max. 
Gilmore Girls
Season 3, Episode 9: "A Deep-Fried Korean Thanksgiving" 
Gilmore Girls is one of the most wholesome shows that I continuously go back to every fall. The Thanksgiving episode includes Lorelai and Rory planning to eat four enormous Thanksgiving dinners… which they are not exactly able to do. And of course the episode includes a little bit of Thanksgiving drama between Lorelai and her parents. 
You can watch Gilmore Girls on Netflix.
Friends
Season 6, Episode 9: "The One Where Ross Got High"
While there are so many great Friends Thanksgiving episodes to choose from, this episode includes the famous Friends scene where Rachel messes up the trifle recipes and ends up adding beef in between the layers of ladyfingers and custard. In this episode, Ross also has to reveal why his parents don't like Chandler and Joey and Ross also attempt to get out of Thanksgiving to go hangout with some girls. 
Some honorable mentions for Friends Thanksgiving episodes include Season 3, Episode 9 "The One With The Football" and Season 5, Episode 8 "The One With All The Thanksgivings." 
"I honestly think that all of the "Friends" Thanksgiving episodes are so funny," said Sophia Gramatis, senior. "I think I might watch one with my sister this year." 
You can watch any of these iconic episodes on HBO Max. 
Full House
Season 1, Episode 9: "The Miracle of Thanksgiving" 
Full House is the epitome of my Nickelodeon childhood and this episode is too wholesome to pass up. Being the first Thanksgiving without his wife, Danny wants to make this day very special for his daughters, but the weather causes Danny's mother to be stuck in Washington, leaving Danny, Jesse and Joey without help for the holiday. While many things go wrong, the Tanner family end up having a joy-filled Thanksgiving, and the episode ends like every other Full House episode.
Watch it on HBO Max. 
New Girl
Season 2, Episode 8: "Parents"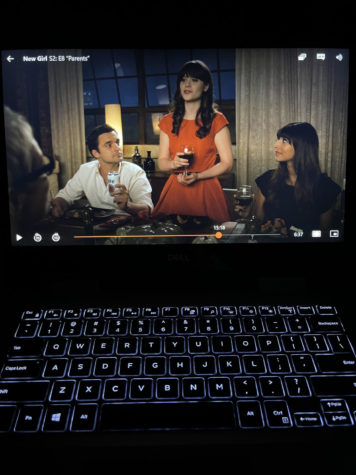 New Girl is another series with quite a few incredible Thanksgiving episodes. But this episode is my favorite without a doubt. Jess attempts to "Parent Trap" her divorced parents on Thanksgiving at the Loft. Jess convinces Nick to flirt with her mom to make her dad jealous with the intention of pushing them back together. But, like every other "Parent Trap" attempt, it doesn't work. 
"I just like the idea of trying to "Parent Trap" and trying to get your parents back together. I think that's what everyone wants on Thanksgiving," said Lesley Stock, from the English department. 
Watch New Girl on Netflix. 
The Office
Season 7, Episode 9: "WUPHF.com"
While this episode of The Office isn't exactly a Thanksgiving episode per say, it is still on my list. Michael is focused on bringing investors into Ryan's new internet company while Dwight lives out his own childhood memory by creating a  "Hay Palace" in the Dunder Mifflin Parking lot while pursuing his childhood dream of becoming the "Hay King." 
"I think this is a good episode to watch with family, said Lily Jackson, senior. "It's a good comedy that can make anyone laugh." 
For some laughs, stream The Office on Peacock. 
The Fresh Prince of Bel Air
Season 1, Episode 12: "Talking Turkey"
The Fresh Prince of Bel Air is another Nickelodeon childhood favorite. In this episode, Will's mom comes to visit for Thanksgiving to realize that the kids are waited on day and night by Geoffry, their butler. This causes Will's mom to task the kids with preparing the Thanksgiving dinner by themselves to prove their lack of laziness. 
Stream The Fresh Prince of Bel Air on HBO Max. 
Grey's Anatomy
Season 2, Episode 9: "Thanks For The Memories" 
While Grey's Anatomy  mostly consists of scenes of crazy patients' diagnosis and surgeries, they have a couple innocently funny Thanksgiving episodes. In this one, Izzie plans on cooking a nice Thanksgiving dinner for all of her friends, but none of them seem to be around or wanting to help. While Meredith, Christina and Alex hide at the hospital, Burke mysteriously appears to help Izzie. 
"I've watched Grey's Anatomy for so long, like since sixth grade, and it never really gets old," Jackson said. 
You can stream it on Netflix. 
There's nothing that I can think of that better encapsulates an American Thanksgiving than good 'ole American TV. So, I would recommend curling up on the couch with some Thanksgiving food, close friends and family, and giving a few of these episodes a watch. I know I will be doing the same. 
Leave a Comment
About the Contributors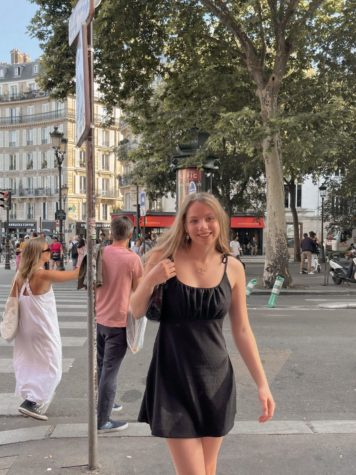 Rachel Brugge
Rachel Brugge, senior, is excited to continue writing for Devil's Advocate. She loves fashion, traveling, art, and 90's punk rock. Along with Devil's...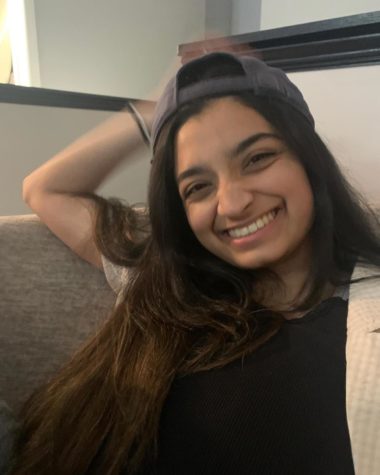 Simrah Qasim, Editor-in-Chief
Simrah Qasim, senior, is excited to be returning to devil's advocate. She loves listening to music, writing, and playing the piano. Along with Devil's...