The time is 9:50 a.m. My friends and I are just sitting down to lunch. Not hungry, we sit and chat while working on homework. Oftentimes, my lunch sits in my backpack until I get to practice. This has become our daily routine in third period lunch where laptops and homework outnumber actual lunch bags. At 10:40 a.m. we're finished with our last chance to eat a full meal before the end of the day. 
The new third and seventh period lunches were added to the 2023-2024 school year in place of the typical fourth through sixth period lunches. All of the lunches are 50 minutes long, as opposed to the previous 25 minute lunch periods.
"During the 2021-2022 school year, the district formed a Second Instructional Schedules (SIS) committee," said Terri Walker, D86 Board Member. "[This was to] provide flexibility during the school day for student support and teacher collaboration."
The new schedule does provide this flexibility as many students report being able to complete their homework during their lunch periods. 
Story continues below advertisement
"At first, I wasn't so sure about it because normally I'm a pretty quick eater so I thought I would just be sitting there doing nothing," said Amelia Sowers, senior. "But now I've actually realized that it's actually helpful to have a 50 minute lunch because I get to get in some extra homework time." 
Sowers has third period lunch and although she feels hungry throughout the day, she is able to supplement this by having a snack in class.
"I get a lot of my homework done half of the time," said Mateo Banda, freshman. "It's really nice."
Banda is a student who has seventh period lunch, which starts at 1:30 p.m. and ends at 2:20 p.m. While this time isn't as egregious as the new third period lunch, it is the second to last period of the day, meaning that students must go through five periods before eating a full meal. 
Banda reports feeling hungry before his lunch, though his teachers allow him to eat in class, much like Sowers. 
While snacking in class is an appropriate supplement to having an early or a late lunch, it does have its pros and cons. 
For starters, students who are snacking are not paying full attention to their teachers. This leads to less focused students and in turn, a less productive class period overall. Teachers allowing their students to eat in class helps with their hunger, but not with their class performance.
On the flip side, students that are hungry are not good learners and by not allowing students to eat in class, teachers are losing out on productivity. 
Coaches are also losing out on productivity. Athletes having third period lunch means that they have to go five periods before their practices, resulting in them feeling tired and worn down before practice even starts. For sports like cheerleading and football, this can become a safety issue.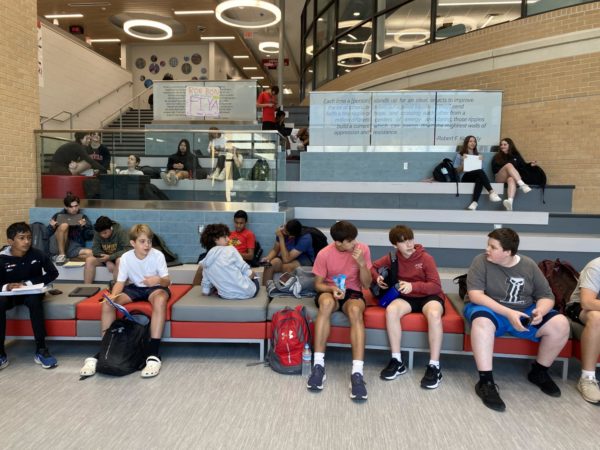 So what is the solution? Students have differing opinions.
"Get rid of seventh period [lunch]. That's all I can really say," Banda said. 
Many could agree that this also stands true for third period. By getting rid of these two periods and allowing students to eat at normal lunch times, we would decrease the number of students snacking in class. This would work towards increasing overall productivity and in some cases, practice performance. 
Sowers, on the other hand, thought that the district could seek to improve the new flex day schedule. This change allows students to leave school at 1:55 p.m every Wednesday as opposed to 12:35 p.m every other Wednesday, which was the schedule last year. 
"I feel like on flex days if we didn't have a lunch period then we would get out earlier and everyone could go get their own lunch like last year," Sowers said. 
Walker did note that students were a part of the SIS committee and their voices were heard. Should students feel that the need to modify this schedule further, they are welcome to attend weekly board meetings to pitch their ideas. 
"We value and respect our students [and] we will continue to seek ways to amplify their voices," Walker said. 
If you are looking for more information regarding the new bell schedule, please click here.