Shorthanded Devils finish fourth at York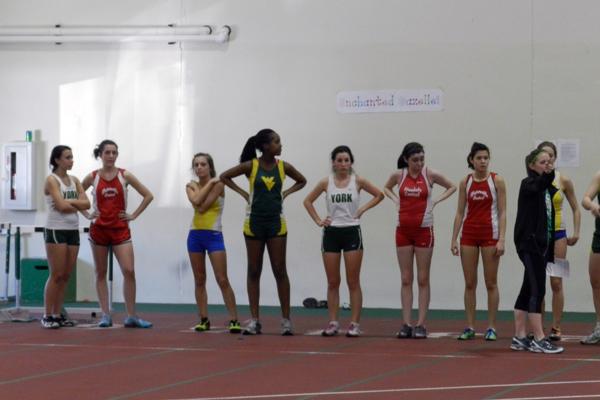 The track meet at York High School went well for the girls' indoor track team despite the fact that the team was lacking many members.
The girls' track team traveled to York High School this last Saturday (2/18) to compete against many schools including Downers Grove North, Metea Valley, Improviso East, Barrington, Naperville Central, Carl Sandburg, and York, the main rival high school of  Central. Central's varsity team placed fourth and the freshman/sophomore team placed third. This is the first time that  Central has not won the York indoor track meet. According to Mr. Pat Richards, girls' track coach, this was due to many girls sitting out and having muscle strains. Regardless, many of the runners did extremely well individually.
Three varsity members stood out particularly in this meet. Junior Jill Hardies, varsity team member, placed first for the mile with a time of 5:06, beating the field-house record at York. Senior Lauren Paul came in second for the 300-meter dash and first for the 400-meter dash. Sophomore Marie-Louise Kloster won second place in the 400-meter dash, finishing right after Paul. Sarah Brennan, a member of the freshman/sophomore team, did extremely well and earned first place for the mile.
For the next meet, Richards said, "We want to continue to develop and continue to improve." This Saturday (2/25), the girls will be running at Central against Downers Grove North, Metea Valley, and Improviso East. Richards thinks this meet will go well for the girls.
For the season, Richards hopes the girls keep improving. "The primary focus of indoor track is to develop the kids for outdoor track," Richards said. Indoor track will be ending right before spring break. The indoor championship on March 16 will end indoor track and begin outdoor track. According to Richards, the goal for this season is to be "the best team we can be for the indoor championship."
Leave a Comment