HC wrestling takes state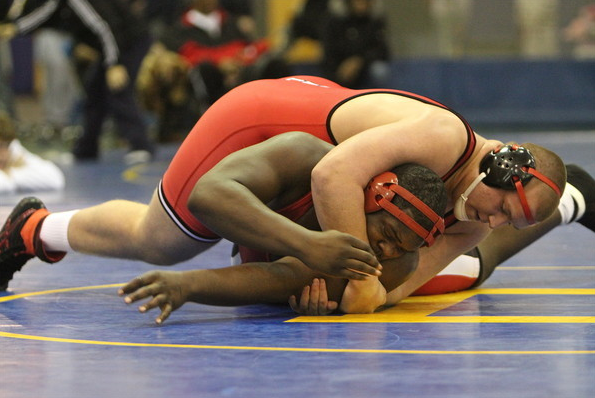 Red Devil wrestlers headed to Champaign last week for the IHSA State Wrestling Tournament. The five wrestlers representing Hinsdale Central were George Tolbert, Juwan Edmond, TJ Sally, Justin Katzovitz, and Brain Allen.
Brian Allen, sophomore, finished in third place at 285 lbs. after winning four out of the five matches he competed in. Allen's only loss was to Rob Bain from Bolingbrook in the semifinals. Allen said while last year he had hyped up his thoughts about the tournament, this year he looked at state as "just another tournament."
The youngest wrestler to represent Central was freshman Juwan Edmond. "Even though I'm a freshman, it feels pretty normal to be competing at state…I expect myself to be competing at this level," Edmond said. He, like Allen, won four of the five matches he wrestled, resulting in a fifth place finish at 126 lbs.
In sixth place at 170 lbs. was senior TJ Sally. While he won his first two matches, he was unable to compete in his other three due to a neck injury. "I fractured my L5, which is in my back, and my C2, which is in my neck," Sally said. Even with the forfeits, he still placed in the tournament, and despite his injury, Sally said he aimed to make this final appearance on the mat "worthwhile," seeing as he may not get another chance like this.
State qualifiers Justin Katzovitz, senior, and George Tolbert, junior, did not win any matches throughout the tournament.
The Devils didn't close out their season with state, though. The state team dual tournament was held on Feb.21 at OPRF high school. While the Red Devils didn't come out on top, they were satisfied overall with their performance at both the state and dual meet.
Leave a Comment