Golf team shoots for consecutive title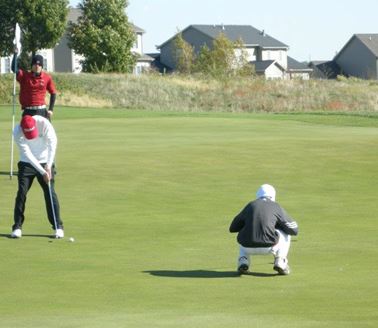 More than a year ago, golfer Brian Dolehide led his team, birdie by birdie, to the first state championship since 1961.  Through weather delays and shifting team positions, members of the golf team maintained their composure up until the presentation of the state trophy. This year, the boy golfers hope to repeat their success.
The confidence does not seem to be lacking, and the players believe that they have the talent necessary to go all the way." We definitely have high expectations of ourselves considering the talent. We have the same goal every year: to get to state and see what happens," said senior Tom Olson.
Having lost only one starting player, David Whinery, means the team still has the potential to drive, chip and put its way to a second consecutive state title. "I believe our team is just as good, if not better than last year," Dolehide said. "All of us have improved our game and we are trying to be competitive and give ourselves a chance at the title."
Losing Whinery proved to be an obstacle, but the team appears to be doing just fine this early in the year. The main difference this year is the number one ranking that Central has earned to start the year off.  Last year, the title run took everyone by surprise, including many of the team members.  The only surprise in store for the players this year would be finishing in a spot other than first.
"Last year no one really knew who we were and we flew under the radar," Olson said. "This year you could say we have a target on our back, and it's our title to lose.  It still doesn't change our mentality.  All we need to do is make to state and prove why we're there again."
Leave a Comment