2015 Powderpuff football game sparks competition and awareness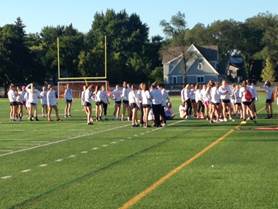 This Sunday afternoon, Sept. 20, marked another fantastic Powderpuff Football game, filled with playful competition all while the greater cause never left the girls' minds. Seniors won the game by two touchdowns and the event raised $3,800 for the Open Arms Foundation and Hinsdale Hospital for Breast Cancer research. 
The Powderpuff game is a flag football game between the female juniors and seniors at Hinsdale Central, and it is coached by male junior and senior football players. Among the senior coaches were Doug Kramer and Colin Goss and senior star players consisted of Gracyn Elliott, Emma Loughlin, Lexi Limparis, Dina Haveric and Yasmain Hamood.
The end score was 20-6 in favor of the seniors, and the highlight of the game was a long 4th down catch by Alix McArthur late in the game. 
"It was super impressive," Elliot said of the catch. 
The greater cause for the game is to raise money for Breast Cancer Awareness, and this year was successful in that regard. Not only did the event raise money, but it also raised awareness, and all the girls can agreed that the most important part of the night was not the fiery competition between grades, but the awareness of a great cause.
"Although there was smack talk between the juniors and seniors, no one ever lost sight of why they really signed up to play," Elliott said.
Both teams were plagued by the same problem: the ability of the girls to know the foreign sport of football. Some players, however, had no problem learning to play.
"My dad has always coached my younger brother," said Sophie Beaulieu, junior. "Learning how to play was never an issue."
Most girls struggled to learn.
"The boys tried to teach us where to run, but I think everyone had already forgotten the plays by the time they had to do it," Haveric said.
Although the juniors lost, the team has high hopes for next year. The captains for the team were Ellie Adams and Gillian Lail, and among some of the coaches were Josh Bean, Tommy Lyne, and Brian Foley.
"The competition between the seniors was great," said Maura Drew, junior. "It really motivates us to beat the sophomores next year."
According to Drew, the juniors are already preparing for the beatdown next year, and it appears that the fierce competition will continue for years to come.
Leave a Comment
About the Contributor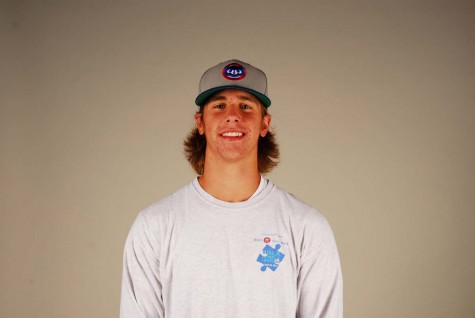 Zak Marinko, Writer
Senior Zak Marinko just joined Advocate this year and knew he wanted to write. Zak keeps himself busy by playing sports year round himself and even ponders...