Boys' Lacrosse Looking for Win at Season Opener
On Tuesday, March 15, members of the varsity lacrosse team donned their Hawaiian shirts throughout the day in anticipation for their first game of the season.
Although the sport has previously been a club team, it is now fully recognized as a part of IHSA.
"I am very happy that we are now an IHSA sport because we get new things like jerseys and a lot more school support," said Jake Simon, junior team member.
Coach Rich Mares is also new to Hinsdale Central, and has eight years of coaching experience along with 15 years of playing.
"I am extremely excited to have been selected as the head coach for Hinsdale Central," Mares said. "Following in the footsteps of a good friend of mine, Tom McBride, is quite an honor."
The boys' team hopes to be competitive this year, and make it to the IHSA playoffs for state later this season. In order to do so, practices have to be intense.
"We typically begin with 30 to 45 minutes of stick work to help our guys warm up, and then work in some conditioning before splitting into offensive and defensive groups to focus on more position specific aspects," Mares said.
The varsity team is led by captains Kyle Hyland, Zak Marinko and Andrew D'Aprile, all of whom are seniors.
"I am very excited about the team we have this year. I believe our team is going to be very competitive and only going to get better each week," Mares said.
Colin Parker, junior, has been playing lacrosse at Central since freshman year, and this is his second year on varsity.
"The entire team is pumped to start the season. We have a lot of potential to do well this season, and we're looking to build momentum with a win against Neuqua Valley at our season opener," Parker said.
"Our goals for this season are on a game to game basis; take it one game at a time and focus on each opponent as we progress," Mares said.
The Varsity team plays their first game against Neuqua Valley on Dickinson Field at 7:00 p.m. on March 15.
Leave a Comment
About the Contributor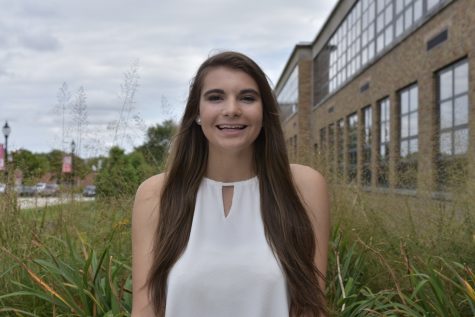 Shannon Ging, Sports Editor
Senior Shannon Ging loves writing for Devils' Advocate, especially if it is about sports. She spends most of her time cheerleading, whether it's for the...