Boys' soccer makes statement in 5-2 win over York
GOALS: Semba '30, Bourtsos '40, Yi '62, Cole '62, McKay '76
FINAL: 5-2
Boys Varsity soccer extended their undefeated record on Sept. 6 in a 5-2 away win over York. The Red Devils came back twice to even the score, proving resilient against a strong York opponent.
"There is no doubt we made a statement this evening against a strong West Suburban Conference opponent," said Michael Wiggins, head coach. "Every conference game is an important one, and tonight was no different. There has been a lot of talk surrounding our undefeated streak in the conference, dating back to October 11, 2011, and to win our 25th straight is a credit to our guys handling that well."
There's a lot of excitement surrounding the team, but players are being careful to keep the blinders on. "Even though there are a lot of high expectations for us, like being undefeated conference champions for the fifth year in a row, which is unheard of, we haven't let that get to us and are playing for each other and for the team," said Eric Chang, senior defender.
With the product on the field improving with every match, it's clear that this year's varsity squad is finally starting to mesh. "We had a slow start to our season, but I think we're really starting to capitalize on the chemistry we've built and our 5-2 conference win over York and undefeated record this season can attest to that," Chang said.
The team's improving chemistry can be felt in the Red Devil fan section too. "It seems like the team is really playing well together," said Ben Schneiders, senior fan.
On Sept. 9 and 10 Boys' Varsity is heading up to Wisconsin for two matches with nationally ranked programs on Friday at 7:30 p.m. and Saturday at 5:00 p.m. Friday evening will be at Peoria Notre Dame and Saturday evening will be at Marquette University High School.
Leave a Comment
About the Contributor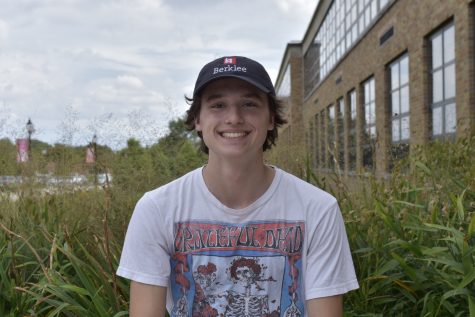 Emmett Grundberg, Writer
When he's not chasing the headiest Phish jams, he's probably at Toyota Park watching the Chicago Fire find new and creative ways to lose soccer games....