Varsity Soccer Wins 2-0 against a strong Naperville Central
GOALS: Semba '5 , Usher '75
Final: 2-0
On Sept.17 Boys Varsity Soccer left Naperville with a huge victory against a well-coached Naperville Central team.
The Red Devils pulled ahead early on with a goal from Jake Semba, senior, in the fifth minute of play. Mikey Usher, senior, sealed the victory with a goal in minute 75.
"We talked about getting after them early, and how we have been able to score first on teams. As a result we wanted to get an early strike, but then hold onto it and then build. It was nice to see this today," said Coach Michael Wiggins on Semba's quick score.
But this victory bliss may be over. The team is entering a long stretch of games that it hopes will lead the players to the postseason. During this march to the playoffs, much of the team's success depends on every player being ready to rise to the occasion on any given night.
"I am encouraged at how we are seeing guys step into roles very well. As we move into the next phase of our season, we will look to see how we are able to build on these roles," Coach Wiggins said.
The team hopes this win will serve as a confidence booster going forward.
"The game was a great win for us especially coming after a couple of losses. Naperville Central is always a strong team on our schedule," said James Mathew, senior.
This victory over Naperville Central is a taste of the obstacles that lie ahead for this team.
"I thought it was a big win against a very good team and a very good program. We're going to continue to see tough opponents like Naperville Central especially in the playoffs, so we've got to build on that win and become better because of it," said Jeremy Yi, senior center midfielder.
With a 1-1 record in conference, Boys Varsity Soccer is looking to match against a strong Downers Grove North team on Sept. 20. Red Devils went to penalty kicks and won in 2015 against DGN, so expect a hard fought match as the Trojans search for redemption.
Leave a Comment
About the Contributor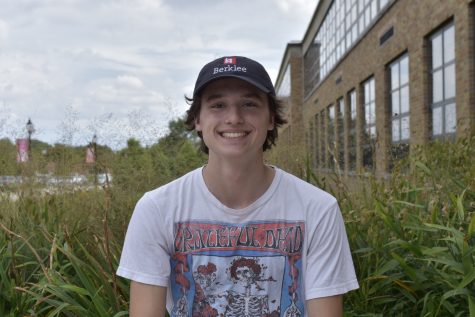 Emmett Grundberg, Writer
When he's not chasing the headiest Phish jams, he's probably at Toyota Park watching the Chicago Fire find new and creative ways to lose soccer games....