Seniors Win Powderpuff Football Game 40-20
The annual Powderpuff Football game took place on Sept. 26 on Dickinson Field where two teams, composed entirely of juniors and seniors, competed against each other.
This year's matchup resulted in a 40-20 senior win. The main goal of the competition, however, was not just winning.
"We took donations at the gate [to support] the Amazing Grace Foundation," said Nikola Ivanisevic, senior and one of the coaches.
The total amount of money raised this year by spectators and players was more than $4,000.
Members of the varsity football team helped out with coaching the girls.
"We had two unofficial practices from 4:15 to 5:30 p.m. on previous Sundays," said Caroline Renehan, member of the junior team.
The teams were organized into multiple lines to know when they should be put into the game.
"On the junior side, we had Eleni Tsokolas, Maddy Swade, and Cassie Kruse lead us," said Katie Cernugel, junior. "The seniors had Gillian Lail and Ellie Adams."
The highlight of the day was a long touchdown run by Maria Meyer, senior, who ran along the sideline outrunning the junior team. The touchdown was a momentum changer. From there, the seniors took over.
Although the junior side took a 20 point deficit, they did not give up. The score may be misleading, but the game was intense.
The competition level was high, and the money raised was well over expected. The school is hoping to have similar success with the game next year.
Leave a Comment
About the Contributor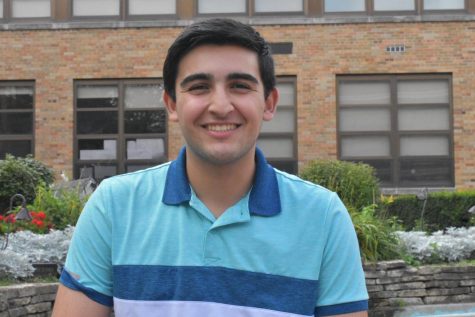 Ali Ardehali, Section Editor
Ali Ardehali, section editor for sports and A&E, is a senior who dedicates much of his time keeping up with the sports world. Despite recent struggles...