HC Football Clinches Conference Championship in Victory Over OPRF
Red Devil Football Defeats OPRF to Secure Conference Championship
On Friday, Oct. 21 Hinsdale Central defeated OPRF 21-12 to seal its first conference championship and undefeated season since 2004.
Luke Skokna, sophomore, scored the first two touchdowns for Central. Quarterback Josh Bean sealed the victory with a 74-yard touchdown in the fourth quarter. The Oak Park River Forest Huskies battled back throughout the game, not letting HC's scoring go unanswered. On both of their touchdowns the Huskies attempted a two-point conversion but did not succeed on either tries.
"The whole thing was a total team win. The defense played great for the first half, but then we gave up a couple scores and the offense needed to pick us up. That's what this team has a been about all year, picking each other up when they're down and making sure that everyone is responsible for everything. It's everybody's responsibility to bring the game back and I think this game exemplifies our whole season," said Coach Brian Griffin.
The Red Devils play their first game of the playoffs on Friday, Oct. 28. Amid the buzz of an undefeated season, the coaches have emphasized the need to stay focused.
"Now it's one at a time, trying to win next week and continue to get better. The really good teams continue to get better in the playoffs and not flatline," said Coach Griffin.
Josh Bean, senior, has had a season for the books, and it was all behind a playoff caliber offensive-line. Heralded by teammates as the best O-line in the state, they have truly been the unspoken heroes of this Red Devil team.
"Our motto is violence, aggression, explosive, power. It was a battle in the trenches today, every play. These games are won and lost in the trenches. We've been going in every morning working our butts off. This is what it's all for. It's the best feeling in the world," said Peter Pigatti, senior offensive lineman.
There was no shortage of crowd energy for this game. Despite the cold, unpleasant weather, Red Devil Nation was ready to help make the final push for a conference championship.
"RDN brought the heat. It's like 40 degrees out here but this place is cooking. We got people taking their shirts off out here. Tunes were bumping, good vibes. Got in trouble a few times but it's all worth it. Kids were all in. Team is hype, crowd is hype. It's all on the road to state. Big plans for the playoffs," said Anthony Brescia, senior.
The team hopes to fight their way to a state championship one game at a time and truly cement their Red Devils sports legacy.
Leave a Comment
About the Writer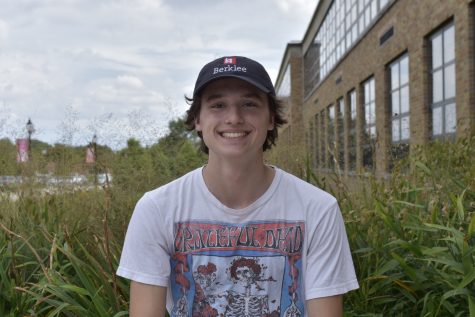 Emmett Grundberg, Writer
When he's not chasing the headiest Phish jams, he's probably at Toyota Park watching the Chicago Fire find new and creative ways to lose soccer games....