Little four meet kicks off track and field season
On Feb. 11, Boys' Track and Field faced off against Downers North, Downers South and Oak Lawn at the annual Little Four track meet to kick off the indoor season. The Red Devils won the meet on the Frosh/Soph and Varsity levels.
Little Four is traditionally the first meet of the season for Boys' Track and Field. The meet serves to shake off the rust for the runners who haven't raced since last cross country or track season.
Although the results of the Little Four are not crucial to the season as a whole, it certainly sets the tone for the meets to come.
"It was great to finally get back to racing after almost four months of hard training. Running well at these meets and seeing your teammates run well is what it's all about," said Ryan Doorhy, senior mid-distance runner.
The Little Four meet features numerous distance, mid-distance, sprinting, relay and jumping events as well as shot put and pole vault.
"The men showed a great deal of grit and determination. They focused solely on the process rather than the end product and did not get caught up on a certain place/finish. We are very proud of the men," said Mr. Jim Westphal, coach.
This track season, Mr. Noah Lawrence, head coach, has implemented a new policy where athletes for every event meet together as a team before every practice. This is a deviation from previous years when distance, sprint and field athletes would only meet as a team once a week at the most. The coaches hope this will foster a greater sense of team unity and encourage the athletes to train for each other as well as themselves.
"More than ever this year it really feels like we're a part of a team. I think it's going to translate into more success all across the board at meets," said Nicky Midlash, senior distance runner.
The next meet will take place at Proviso West on Saturday, Feb. 25.
Leave a Comment
About the Contributor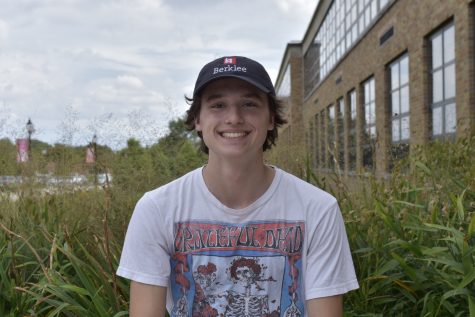 Emmett Grundberg, Writer
When he's not chasing the headiest Phish jams, he's probably at Toyota Park watching the Chicago Fire find new and creative ways to lose soccer games....