Preseason conditions skills and friendships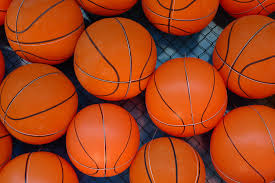 Whistles blowing, balls bouncing and girls yelling plays. It's girls' basketball preseason and the team is gearing up for the Nov. 4 season start. With something happening almost every day of the week, from weight training to open gym, the girls say there is no time wasted during this warm-up to the real deal.
But inbetween all of the workouts, the girl's team is a close-knit community, which they say is essential when playing the sport.
"Teammate relationships are so important. Basketball is a team sport and teams find the most success when all members are working together and trust each other to do their job. Therefore the way you interact with your teammates on the court definitely affects the way you play," said Coach Allison Rogala, of the sophomore basketball team."If you are always worried about messing up because your teammates are yelling at you, you won't play as confidently or focused and probably will end up making more mistakes as a result. But if you know your teammates are supportive you will be able to play more confidently and more willing to take chances, which usually results in more success."
Teams typically get along well and are supportive which is a key component to winning the game when they're on the court. In order to build these relationships, coaches organize preseason to build on play skills, but to also build on interpersonal ones.
"Basketball is a sport where you need a teammate to be your friend or at least get along because as a team you need to get along and put everything aside and focus on the sport in order to win a game," said Dammy Babagbemi, sophomore basketball player. "Getting along with your teammate will help improve the importance."
The girl's team preseason starts off with conditioning which includes a lot of drills and lifting weights. Drills range from running up and down the court to leg workouts. Basketball is a fast pace sport so it requires players to constantly work on building up their endurance and agility.
With preseason up and running, players have a better opportunity to make friends. Friendships create an environment that helps players want to grow and learn.
"During the pre-season, the varsity girls do a great job of welcoming new players to our program and teaching them drills or just giving words of encouragement. During the season or practices, players are constantly cheering for each other. The bench during games is always as loud as it can be," Coach Rogala said. "On the court the girls are always giving high fives or telling each other to shake it off when they make a mistake or screaming at the top of their lungs when they make a three-pointer."
The players not only connect on the court, but they say they have forged friendships that go beyond playing ball.
"Some of the people I play with year-round are now either one of my best friends or one of my really good friends," Babagbemi said.
The season will start Monday, Nov. 4 at 3:15 p.m. in the main gym and the team is always looking for new players.
Leave a Comment