Varsity volleyball ends its successful post-season with loss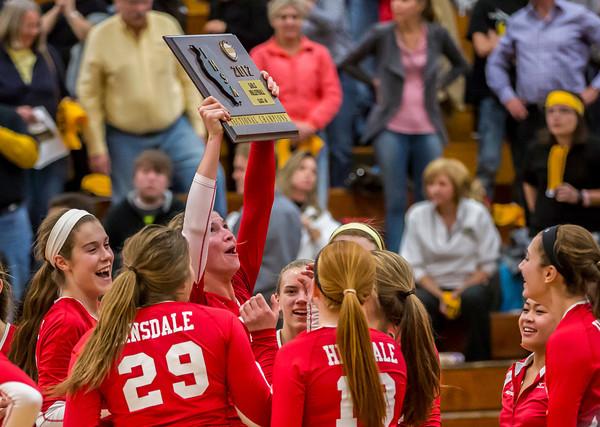 After becoming sectional champions during last Thursday's game against Hinsdale South, the girls varsity volleyball team ended their season with a loss at the super-sectionals game yesterday against Mother McAuley.
"The fact that we lost last night is hard because you never want to end a season on  a loss," said Meghan McDowell, a senior captain for the team.  "But, I'm so proud of how far we've come.  Turning in my jersey and never wearing a Central jersey again will definitely be tough."
According to McDowell, Central lost yesterday because the team was nervous.  Mother McAuley is ranked in the top twenty nationally, and that did not go unnoticed by Central's players.  "We made errors that we hadn't been making.  It's disappointing, but it is what it is."
The volleyball team endured a series of losses during their regular season, but they were able to make it far in their post-season.  "We just got tired of losing, of disappointing ourselves, our families, and our fans, and of constantly feeling like we could do better.  Especially the seniors.  So, we stepped up in our leadership and in how we played," McDowell said.
In doing so, McDowell and her teammates have taken away important lessons.  "I've realized that everything is possible, and this is something I'll take into club volleyball and into college volleyball," McDowell said.  "Our team was bad during the regular season, but we made history during the post-season.  It's been four years since the varsity volleyball team has gone that far.  If you compete as hard as you can, it can happen.  Having great teammates who want to work hard is better than having super-athletic players who don't."
Leave a Comment