Boys' swimming takes conference title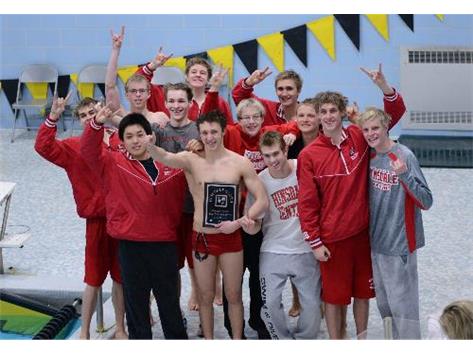 The boys' swimming team took first place in conference this past weekend. Along with the 100 butterfly, Central took first place in the 200 medley relay, 200 freestyle relay, and the 400 relay, among other events.
"The guys at conference had some incredible swims on all levels. Watching the swims at conference helps fuel the motivation for the rest of the season," said Clark Grosshans, junior.
The boys are now preparing for sectionals, which will be held at Downers Grove North High School on Feb 2. at 1pm.
"We have to be ready to swim fast at sectionals, but in order to assure fast swim at both sectionals and hopefully state, we have to work harder than ever before," said junior Brian Portland . "When you have guys finishing up their seasons around you, it can be tough to keep it together physically and mentally, but we have to set our sights on sectionals and state and keep working until we get there."
The state meet will take place on Friday, Feb. 28 and will be located in Evanston.
Leave a Comment