Boys' volleyball anxious to start season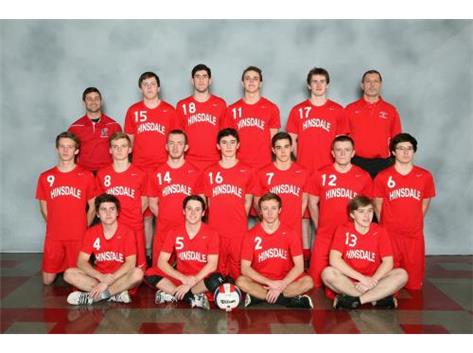 The  boys' volleyball team has been waiting all fall and winter for this moment: the official start to its season. Despite an extremely strong season last year, posting a record of 25-9, the boys' team is striving for an even better record. Now that the season is underway and the expectations are high, the boys know they can't lose focus or look too far ahead.
"I expect this season to go very well," said Kian Peterson, senior. "We have to stay focused during practice."
As with any sport, success does not come easily. The Red Devils are ready and willing to put in the work to make it to the top.
"The amount of wins we get this season will be determined by the work we put into practice and our focus on the court," said Eamon McMahon, junior. "And, above all, our will to win."
If the Red Devils can harness that work ethic, team members expect great things to translate to the court.
"I believe we have enough talent and size in our top seven players to contend for a state title," McMahon said. "Setter Kian Peterson is the glue of our offense, and is quite clearly a demigod."
Peterson was suspended for the first two games of the year, and the Red Devils are holding a 0-2 record to start the year. As he is the "glue" of the offense, Central should make a run once he returns to play.
"This year it is important that we stay healthy and stay eligible to play," Peterson said. "Our roster doesn't have a lot of depth."
The team has great talent, but has and will continue to encounter obstacles along the way.
"This season has no ceiling," McMahon said. "Coach Konrad always preaches that the main goal is to get better every day."
Peterson added, "We have a chance to make the best playoff run in recent years. We just have to take things one step at a time, take it game by game."
Leave a Comment