Boys' water polo strives for teamwork and improvement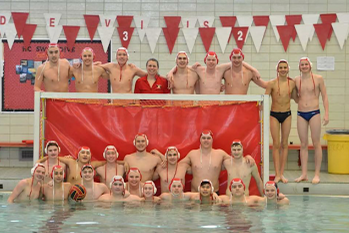 Water polo is back, and the team is gearing up for what they hope to be a successful season. The team, which did not have quite the successful season it was hoping for last year, has made necessary adjustments and brought in a new class of juniors who hope to increase the number of wins for the season.
"Last year's team was not the greatest," said Richard He, senior. "The team chemistry and the team spirit were not very strong, and it had a bad impact on the team's performance."
The team, coached by Ms. Christina Brodell, has much higher hopes for this year, and although the conference is one of the tougher ones in the state, there is a strong sense that the team will prevail at the sectional tournament.
"We are just a lot better of a team this year," He said. "Some of our seniors are really strong, like Brian Portland and Jack Duggan, and that is just making us a lot better."
"While last year's team wasn't great, we have seen major improvements this year," said Jimmy Lee, junior. "For example, we got third place at a tournament we lost last year, so that was really big."
While the team chemistry from last year's squad was poor, the renewed emphasis on teamwork this year has really helped the boys. According to Lee, this year's captains, Portland and senior Wes Berger, have been instrumental in making the team a more tight knit group.
Although much of the season remains, the recent success of the team combined with the improved team chemistry should hopefully make for a dangerous combination for opposing teams in the upcoming conference and sectional tournaments.
"We hope to do well at sectionals, win a few games, and who knows, maybe we'll make state for the first time in a while," Lee said.
Leave a Comment