Sending the season off: boys' water polo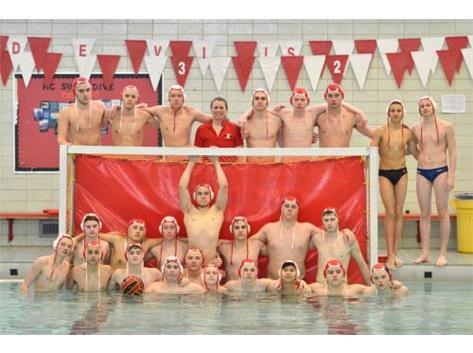 Boys' water polo season came to an end against Neaqua Valley High School at the Sectional Tournament on May 14.
The team had faced a lot of new challenges this season, including new coaches taking over the team. The team overall was very enthusiastic about how the season went.
"It was definitely an improvement from last year," said Steven Mungovan, junior. "There were a lot of little hiccups during our season. We had another head coach change from last year, which really affected the team. Coach Brodell did pretty well for her first year as head coach. I think overall the coaches set us up for a great year next season."
While Central is not known for its prowess in water polo, it is clear that the athletes are dedicated.
"We have morning practices almost most mornings where we focus on conditioning and have more team-oriented practices in the afternoons," said Albert LaValle, junior. "The team has seen drastic improvements since last year and it is a pleasure to be on the team. I'm kind of sad that the season is over. I really hope to see continued improvement and going further at sectionals next year. We might even win conference next year."
While spring sports have not quite attracted the attention of winter and fall sports, athletes find support with each other. As with all sports, teamwork and team spirit are just a few of the most important factors in success.
"The team dynamic was really good this year. We all got a lot of love. No one messed up the dynamic of the team. We often do team bonding things like playing Frisbee and such to really improve the dynamic," Mungovan said.
"I thought the team did fantastic this season," added Michael Johns, junior. "We got just about as far as we thought we would. I think the team felt really close to each other and we kind of just trusted each other to play well. It'll be really interesting to see how far we can go as a team next year."
Leave a Comment