Girls' bowling starts season strong
For many students, bowling is a sport they occasionally play with friends or family on evening outings, often requiring bumpers or ending early to play in the arcade. For the girls' varsity bowling team though, it's a sport the players look forward to every day and competitively look to dominate in.
There are 15 girls on the team, and they practice at Suburbanite Bowl after school every day except Friday. Emma Kroeger, junior, has been bowling on and off ever since her parents put her in a league at the age of three.
"I've been on varsity since freshman year, and I'm hoping this is my best season," Kroeger said. "Personally I hope to improve in conference stats and maybe get to state individually, and since our team was really close to making it [to state] last year I hope our coach will help us achieve that this season."
Paul Parpet is coaching the team this year, and has been impressed thus far.
"So far the girls are competing at a very high level," Parpet said. "We have one team goal and that is to improve each practice and have that carry over to competition. Our girls are developing great mental toughness."
Because the school does not have its own bowling alley, students likely wonder what bowling practice entails and how the team prepares to compete.
"We usually bowl three to five games and practice picking up different spares and spins on our balls," said Sarah White, junior. "I just started bowling with a hook in my spin, which makes the ball spin differently and knock down more pins. It's harder to control, so I'm working towards getting my average score back up with this new skill."
The team is comprised mainly of juniors, with two seniors, two sophomores, and one freshman also on the roster.
"The team aspect is really cool for us because we all cheer each other on," Kroeger said.
Briana Tobin, sophomore, is excited to be making new friends through her sport. "I've been bowling for about seven years, and have been able to meet new people and travel because of it. A personal goal I have is to get closer to the team and get to know them better," Tobin said.
The state finals take place in mid-February, so the girls have many tournaments in between that time. So far the girls are most proud of their season-opening victory against York, who White described as "always the best team in conference."  Home meets are held at Suburbanite Bowl, usually on Friday or Saturday evenings.
Leave a Comment
About the Contributor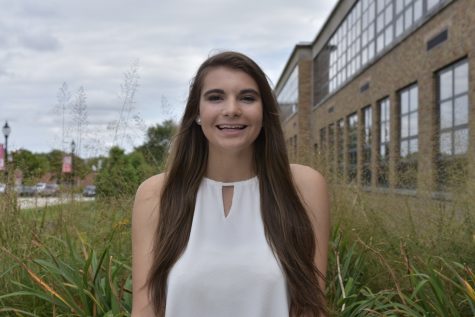 Shannon Ging, Sports Editor
Senior Shannon Ging loves writing for Devils' Advocate, especially if it is about sports. She spends most of her time cheerleading, whether it's for the...