Special Olympics celebrates victory at Pack the Place
On Saturday, Jan. 23, the gym was filled with students and parents excited to support the annual Special Olympics Pack the Place game. The team was eager to take on rival District 99 Downers Grove North, and proved victorious 38-14, with almost every player scoring at least once.
The game was especially exciting for the senior players, as they were announced and honored with flowers and escorted by their parents and peer buddies. The crowd was made of several friends and family of the players, including the cheerleading squad which tunneled in athletes on both teams.
"It has been the best decision I've made throughout high school," said Matt Medick, senior, who has been involved with the Special Olympics/Peer Buddies program as an aide since freshman year.
To hype up the game, the team and coaches performed at the end of the Pack the Place assembly during school on Friday, Jan. 22. Coach Kelly Watson was inspired by the Zumba dances from gym class that all students seem to love.
"I spoke with Mrs. Phillip in late fall, and mentioned the idea to her of us doing a flash mob, and she didn't even hesitate.  I think we were at the end of the pep rally so that everyone could leave smiling," Watson said.
The rally seemed to kick off the atmosphere for the game. 
"I loved getting to know all the students this season. One of the seniors, Maddie, made a basket and ran into the stands to hug her family and then proceeded to hug me. Her excitement made me so happy and proud that she brought me to tears," said Barbara Heidkamp, senior coach.
The Special Olympics team has played in several games this season, including five against DGN. "We prepared for this game all season, with hard work in practice and even working on some of our skills in PE class," Watson said.
Most of the practices included the peer buddies assisting and helping.
"A typical practice is full of funny moments and laughs," Heidkamp said. "We always practice shooting and got really good at passing the ball."
Even though Central won the game, both teams showed sportsmanship and friendship after the game. No matter who scored, the gym was filled with proud, cheering fans, and even a halftime show reprise of the pep rally performance.
"We had our biggest turnout the entire season at our Pack the Place. My favorite part is just being able to have fun with the players," Medick said.
Leave a Comment
About the Contributor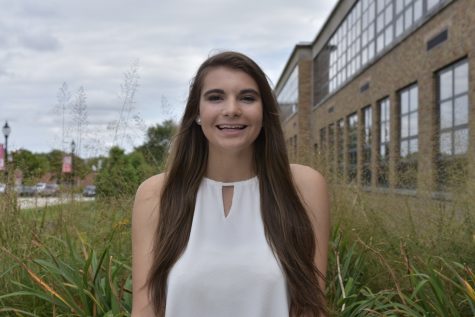 Shannon Ging, Sports Editor
Senior Shannon Ging loves writing for Devils' Advocate, especially if it is about sports. She spends most of her time cheerleading, whether it's for the...