Allen family completes tri-fecta of state championships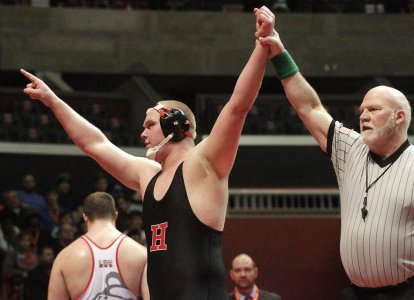 On Feb. 27, Matt Allen, senior, became the third and final of the Allen brothers to win an IHSA wrestling state championship in the Heavyweight division.
Allen won the match 3-2 against Bryan Ditchman of New Lenox to take the state title on Saturday. He finished the wrestling season with an outstanding 48-1 record, but none was more critical than the state championship win.
"It was an amazing experience, especially since it was my last season as a Red Devil," Allen said. Allen placed second last year in a gruesome 1-0 loss in the final match, which made winning this year even more sweet.
Allen's two older brother's, Jack and Brian, both won state championships in 2011 and 2013 respectively, and now have continued their athletic and educational careers at Michigan State University to play football. Matt Allen is following the same legacy, and will be playing football next year at MSU as an offensive lineman.
"Wrestling has really helped me in football, from my work ethic to skills on the field," Allen said. He plans on red-shirting at Michigan State, however he will most likely not continue to wrestle.
Allen attributes all of his success to the constant aid and hard work of not only his coaches, but his teammates as well. Juniors Brian Foley and Niko Ivanisevic wrestled in the same division as Allen, and have pushed him to work harder in practice every day.
"We constantly are going against each other to make ourselves better," Ivanisevic said.
Allen's coaches also were critical in his success. Among them were Coach Hayes, Coach Quirk, Coach Lavell, Coach Duffy, and his Uncle Jimmy. "Without the help of these people, I probably wouldn't be getting interviewed right now," Allen said.
Leave a Comment