Football season kicks off at Central
Amongst all the frenzy of school starting, which includes new teachers and  friends, more homework, and an adjustment to regular eating and sleeping schedules, many students are also preoccupied with the beginning of fall sports. Football in particular is a source of excitement for both players and fans alike, which is demonstrated by the huge crowds at Dickinson Field that Friday nights usually bring in.
In order to prepare to carry on such a tradition, the varsity team began practicing over the summer. "We would have practice during the week at 5:50 a.m. For me, I had to wake up every day at 4:45 a.m.," said junior wide receiver J.T. Kolke, "It was a sacrifice we had to make if we wanted to be good."
On Friday, Aug. 19, the team officially took the field in front of fans at the annual red and white scrimmage. Cheerleaders, pommers, band members, students, and parents all came out for a practice run and sneak peek of what to expect for the rest of the season. "The red and white scrimmage got some minor kinks out for everyone," said senior Brian Foley. The scrimmage was not played like a regular game, but rather ran without a clock until the first touchdown was scored.
As far as goal setting, the Red Devils are not timid in their hopes of success. "We expect to compete for a conference and state championship," said head coach Dan Hartman. This team goal is shared by several high schools in the area, but the athletes hope to achieve it by accomplishing their own personal ambitions.
"My personal goal for myself is to be All-Conference," Foley said.
Other players feel they can do their part by aiming more broad. "My personal goal is to do anything that will help the team win," said Kolke, "It's taking care of the 'little things' as our coaches tell us. We know we can win if we do everything correctly and don't make any mental mistakes."
The first game of the season was held at Dickinson Field on Friday, Aug. 26 at 7 p.m. against the American Fork Cavemen. The team travelled from American Fork, Utah to play in Hinsdale. The Red Devils won 42-12, with 21 points being scored by Central in the first quarter.
Garrett Oakey, junior, was responsible for three touchdowns, catching two passes from quarterback Josh Bean and running in one. Bean, senior, Luke Skokna, sophomore, and Matt Bjorson, junior, were responsible for the rest of Central's touchdowns.
Red Devil defense left American Fork scoreless until the 4th quarter when they scored two touchdowns. Overall, the team was very proud of their performance, and is confident going into next week. "We know that our coaches will put us in a situation where we can win," Kolke said.
The first game was also exciting for the community, as it was "Falcons' Night", where athletes from the Hinsdale Falcons football and cheer teams were invited to take part in a tunnel on the field. Falcons is a part of a youth league that allows kids in elementary and middle school to learn the fundamentals of both cheer and football from a young age and often feeds into high school.
Another exciting element of Friday night was the student section, which was packed with fans from all grade levels, particularly seniors who were encouraged to dress up in togas during school and at the game. "It was really cool to look up from the track and see so many people," said senior cheerleader Caroline Langan, "Even though we were winning by a lot, everyone stayed until the end. The school spirit was extremely high."
The next game is on Friday, Sept. 2 against Downers Grove South. The game starts at 7:30 p.m. and will be hosted by DGS.
Leave a Comment
About the Contributors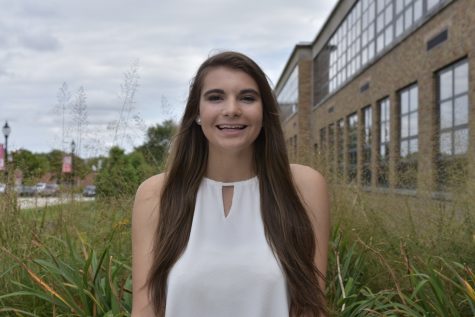 Shannon Ging, Sports Editor
Senior Shannon Ging loves writing for Devils' Advocate, especially if it is about sports. She spends most of her time cheerleading, whether it's for the...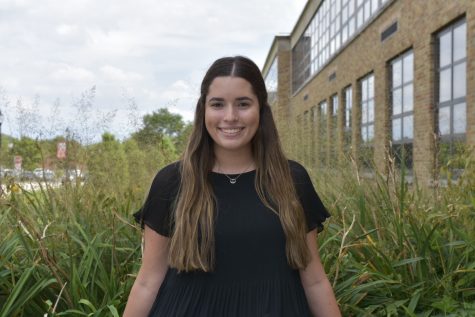 Magdalene Halikias, Photographer
Magdalene Halikias is a current senior and first year photographer "Devils' Advocate." Being an aficionado of music from all decades and all genres...