Red Devils defeat Lyons Township in tense rivalry matchup
On Friday, Oct. 7 Central Football defeated Lyons Township 28-21 at LT. Backed by a record high student fan section in both energy and numbers, the Red Devils remain undefeated and ranked 9th in the state.
Although the game was a strong team effort, Josh Bean, quarterback, remains the star of the show with an outstanding performance against conference rival LT. Bean threw two touchdown passes and scored two running touchdowns for a total 28 points.
The Red Devils took an early lead, but Lyons Township scored three quick touchdowns in the 3rd quarter. The Red Devils lost their 21-0 lead and the game was hanging in the balance with a score of 21-21. Bean ran in the winning touchdown from the four yard line.
"[It was] probably one of the most exciting high school football games I've ever been to. There were just some great plays made by our side and we never let the momentum get away from us and I'm really proud of how the guys played," said Mr. Dan Jones, athletic director.
All in all, the players had a great time working together to defeat their rival LT.
"It was a complete team effort. We have a lot of great guys around us and we trust each other," said John Kwasigroch, senior.
Red Devil Nation has been in full force throughout the season, and this prime time matchup was no exception. More than 1,000 tickets were sold to Central supporters.
"That will go down in history as the greatest student section Red Devil Nation has ever seen for an HC vs. LT game. But we can't stop now," said Will DeAngelis, Social Chair and co-leader of Red Devil Nation. "We need RDN to treat every game from here on out like the game against LT because the energy at that game was something I had never experienced before."
The student section was roaring for the entirety of the game, making sure the Red Devil football players knew the whole school was behind them.
"Red Devil Nation really showed up and they did a great job. They did it with class and really pulled for our Red Devils and our team really felt it," Mr. Jones said.
The Red Devils have two more regular season games ahead of them in the hunt for the conference championship. They will face Hinsdale South at home on Oct. 14.
Leave a Comment
About the Writer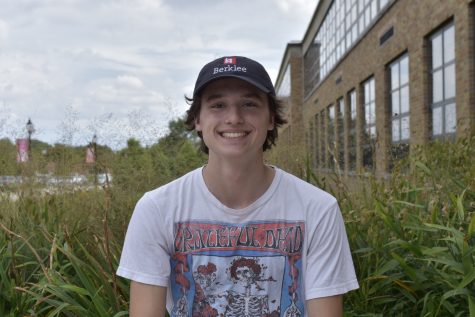 Emmett Grundberg, Writer
When he's not chasing the headiest Phish jams, he's probably at Toyota Park watching the Chicago Fire find new and creative ways to lose soccer games....