Chicago Cubs win World Series
On Nov. 2, the Chicago Cubs won their first World Series in 108 years. Game 7, held in Cleveland, was a thrilling conclusion, forcing an extra inning and proving the Cubs victorious over the Indians with a final score of 8-7, overcoming their 3-1 deficit after the first four games.
The victory was historic for fans. Students showed their spirit on Nov. 3, where Cubs apparel covered the halls and the famous Go Cubs Go song was blasted every passing period.
"Finally next year is this year," said Andrew Zapka, senior. "They will be writing about this in the textbooks."
The win proved to be meaningful for fans of all generations, particularly parents and grandparents of students who have been lifelong supporters but never saw such a victory, as a result of the "curse" over the Cubs until now.
"I've grown up with the Cubs. My parents always told me that if I rooted for the Sox I could pack my bags and find another friend to live with," said Brooke Secola, senior. "I remember coming home that night and I ran into the house and hugged my mom. We both started to cry because we had both waited so long for this."
Social media also erupted during and following the final matchup. Clare Moser, senior, found Internet fame after sharing a video of her grandpa celebrating with her family. The original video received more than 429,000 favorites on Twitter, and was reposted by numerous large accounts as well as featured by platforms like Buzzfeed and NBC Sports.
The celebrations continued for 60 percent of Central students who attended the parade on Friday, Nov. 4. "The fact that Chicago only has 2.5 million people and almost 5 million people showed up was astonishing…it was so fun to be with people who shared the same passion for the Cubs that I did," Secola said.
my grandpa has been waiting 81 years for this? #GoCubbies pic.twitter.com/K5GIl4TpZr

— clare (@_claremoser) November 3, 2016
It seemed that "Cubs fever" was an epidemic that struck Central, with some estimating about 1,200 students missed school on Nov. 4. "I was the only person in my accounting class," said Jane Kealy, senior. "Even though I'm a Sox fan, it is still cool to see so many people rallying together and celebrating. I'm happy for their fans."
The momentum behind the Cubs is not expected to go away anytime soon. The Twitter hashtag #FlytheW even trended through the election, and Saturday Night Live featured players in multiple sketches on Nov. 5. Sporting stores like Dick's faced huge lines minutes after the game, and the days following.
"My friend and I drove to Dick's at 12 a.m. and didn't get home till 3. It was a crazy experience just being with all those Cubs fans. People were honking their horns and flying flags out their windows as they drove past," Secola said.
While baseball players enjoy their offseason, Chicago sports fans can turn to the Bears, Blackhawks and Bulls to keep the hype going.
Leave a Comment
About the Writer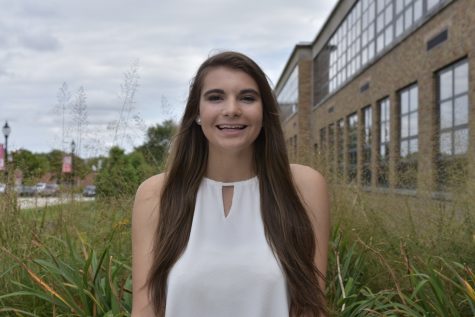 Shannon Ging, Sports Editor
Senior Shannon Ging loves writing for Devils' Advocate, especially if it is about sports. She spends most of her time cheerleading, whether it's for the...