Wrestling season to begin soon
The wrestling team will begin their season on Nov. 22 when they will be hosting Naperville North High School. Their main scrimmage, the Red/White Scrimmage, will be four days prior, on Nov. 18. Last year, the team opened up their season against Naperville North and lost 35-38. This time around the Red Devils will definitely be looking for revenge.
In hopes for a strong season, the athletes are practicing for two and a half hours each day.
"I think we will have a decent season," said Liam Drury, junior. "We were very young last year, with up to seven freshmen on varsity to fill injured spots, but they learned and are all better now so we will have an all right year."
For individual scoring, one point is rewarded for an escape, two for a takedown or a reversal and three for keeping someone on their back before pinning them. For team scoring, three points are rewarded for a minor decision (winning by eight points or less), four points for a major decision (winning by between eight and 15 points), five points for a team that wins by 15 and six points for a fall.
Head coach Mr. Jason Hayes leads the practices. Coach Hayes continuously gets into the players' heads so they can achieve perfection and possess the mental strength to wrestle.
"He always preaches mental toughness on and off the mat, and making sure to [do] the right things off the mat so you don't let your teammates down," said Charlie Gelman, senior.
Last year's star players, Matt Allen and Brett Dougherty, graduated along with many other key members. Wrestlers John Antonelli, Drury, Ameen Hamdan, and Niko Ivanisevic know they must step up this season.
"Our varsity lineup last year had a lot of freshmen and sophomores, who will now be much improved, and we have older guys like Niko Ivanisevic and Ameen Hamdan returning," Gelman said. "Of course, everyone's training to get on the individual podium and the team podium, but right now, our focus is on beating LT to get the regional championship."
To gain chemistry, the team does hang out off the mats.
"We do a lot of bonding at the meets and at tournaments just hanging around and waiting for our matches. Overnight trips to farther away tournaments are also fun," said Peter Pigatti, senior.
The Red Devils are looking to have a strong start at their opening matchup against Naperville North, as well as at the Barrington Invite on Nov. 27.
Leave a Comment
About the Contributor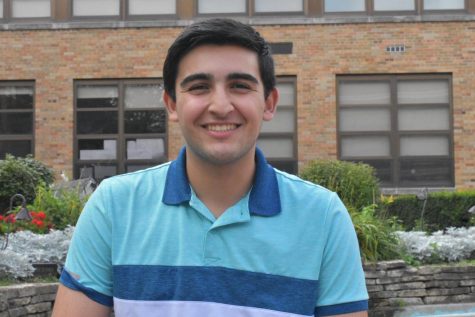 Ali Ardehali, Section Editor
Ali Ardehali, section editor for sports and A&E, is a senior who dedicates much of his time keeping up with the sports world. Despite recent struggles...