Boys' Basketball defeats Hinsdale South
The Boys' Basketball team beat Hinsdale South 46-38 in the main gymnasium on Friday, Dec. 2. The team moved up to 2-3 on the season, trying to move back up after a 1-3 start.
Anthony Brescia, senior, had two quick fouls that sent him to the bench early in the game. Brescia, along with Tomas Misiunas, Chris Eck, Trevor Hamilton and Jack Hoiberg were the team's starters. When Brescia was sent to the bench, which was done to prevent further fouls, Nate McGowen and Danny Ahern, seniors, stepped in.
"Misiunas and Hamilton did well on defense [while] Matt Rush had a great offensive day," Brescia said.
The team used their tough losses in the beginning of the season as motivation during the game against rival Hinsdale South. The team is now on a two game winning streak since Nov. 25, when they pulled out a 10 point overtime victory, 56-46, against Oswego.
"The team put in a good week of practice. We all pushed each other really hard in practice every day," said J.P. Hoffman, junior.
Red Devil Nation participated in a "whiteout" in which all students wore white clothing making the crowd look predominantly in favor of the Red Devils.
"
"The crowd [kept] the players upbeat and hyped to [make] plays. No matter if the team was down or up, the crowd stayed hyped and supportive."
— Brandon Heimsoth, senior
The team looks to add to the winning streak at future games against Proviso West on Friday, Dec. 9 and Notre Dame on Saturday, Dec. 10.
Check out the gallery from the Dec. 2 game here.
Leave a Comment
About the Writer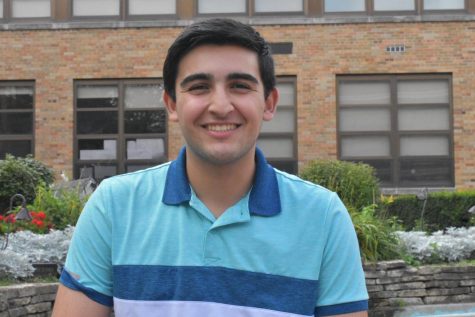 Ali Ardehali, Section Editor
Ali Ardehali, section editor for sports and A&E, is a senior who dedicates much of his time keeping up with the sports world. Despite recent struggles...