Coach McCabe inducted into ITCCCA Hall of Fame
On Jan. 14 Mark McCabe, Cross Country & Track coach, was inducted into the Illinois Track and Cross Country Coaches Association (ITCCCA) Coaches Hall of Fame.
McCabe has spent more than 30 years as a running coach in Illinois, with 22 of those years as a coach at Central. His tenure at Central brought home eight conference, seven regional and three sectional championships.
Despite his successful career, McCabe still believes that the true thrill of coaching lies in the process.
"My favorite moments in coaching are the day to day interactions with athletes, simply doing what I can to help each one of them be the best they can be, both as an athlete and as a person," Coach McCabe said. "I know firsthand what a profound and meaningful impact coaches can have on their athletes."
Visit the fitness center after school on a sub zero day in February and witness the team culture that Coach McCabe works so hard to create. One can find his athletes pushing their limits on ellipticals and treadmills, because for them training isn't an optional activity. He begins every practice with a "quote of the week" to motivate his runners to be the best they can be, but Coach McCabe's winning culture goes home with his athletes after practice too.
"He always tries to encourage the team to eat better and become healthier by ending practice every day with a conversation about different vegetables or healthy meals he's been liking lately. The girls are encouraged to share and tips they might have too," said Olivia Carter, senior.
On joining the ranks of the most legendary and revered coaches in Illinois, McCabe said, "It was pretty humbling to look around the room at the awards induction ceremony and see so many of the coaches that I've looked up to over the years there to honor me."
Coach McCabe retired from his job as a guidance counselor last year, but will continue coaching Girls' Track & XC. He is currently leading his athletes through winter training building up to the first indoor track meet in February.
Leave a Comment
About the Writer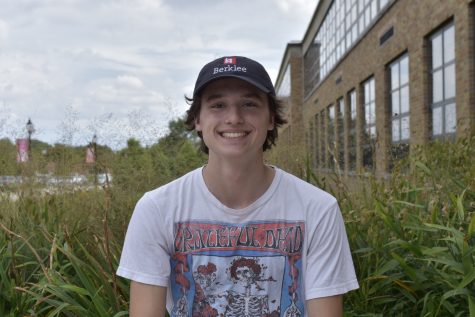 Emmett Grundberg, Writer
When he's not chasing the headiest Phish jams, he's probably at Toyota Park watching the Chicago Fire find new and creative ways to lose soccer games....