Special Olympics basketball team advances to state tournament
On Jan. 28, the Special Olympics basketball team defeated District 99, which includes Downers Grove North and South high schools, by a final score of 20-18 in a playoff game to advance to the state tournament in March.
This game also attracted large student attendance, as the game was advertised heavily on social media, it was senior night for the team, and a trip to the state tournament was on the line.
"I loved watching the team play. It was a great experience being at the game with my classmates cheering on the team and it was great to see how happy all of the players were after winning the game," said Nate McGowan, senior.
The crowd support wasn't lost on the players, who took great joy in the student support.
"I loved seeing the crowd that was there to support the players. It was amazing to see the players' smiles when they looked up to hear the crowd cheer their name. I also loved when players scored for the first time, like Carolyn or Anish," said Coach Madison Becker, senior.
A major aspect of the Special Olympics team is the coaching staff, who help provide guidance to the team members. They mentor the players during practices and games by encouraging them and making sure they are in the right spots during game play.
"As a coach, my job is to provide encouragement and feedback for the players. During practice, we also help demonstrate drills and different activities.. [The coaches] try and create a fun and supportive environment for the players," said Coach Jane Cole, junior.
The game itself was filled with highlights, with many different players scoring (some for the first time) which led to huge cheers from the crowd and helped lead the team to a win.
"One of my favorite moments was when Anish held the crowd in suspense by holding the ball for a shot, and then drained it and stared at the crowd. Everyone was going crazy," McGowan said.
Because of the team's win, they advance to the state tournament in March, held in Bloomington, Ill which will take place from Friday, March 17 to Sunday, March 19.
This is the farthest the Special Olympics team has gone in recent memory, and everyone involved is excited for the rest of the season.
"The players can't stop talking about the upcoming games. It will be a really fun and unforgettable experience," Coach Becker said.
Coach Cole echoed similar sentiments.
"We are so proud of and excited to go to state in March to have fun and try and bring another title home to HCHS," Coach Cole said.
Leave a Comment
About the Contributor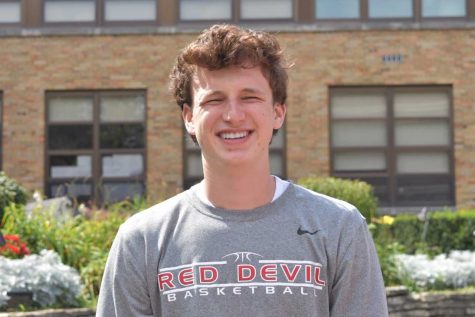 Everett Eck, Section Editor
Everett Eck is a senior who loves the sport of basketball. If he is not playing it, he is probably watching it. When he isn't playing basketball,...