Boys' Basketball beats Lyons Township
The Boys' Basketball team beat rival Lyons Township 60-59 in the main gym on Friday, Feb. 3. This is the second time that Central beat Lyons Township, after beating them 52-47 earlier this season.
This win now has Central on a five game winning streak, moving their record up to 13-7, while their conference record moves up to 8-0.
"Everyone on the team played well and our scoring was balanced," said John Williams, junior guard. "Matt Rush and Michael Yaeger stepped up once Chris Eck got hurt."
Eck scored the first seven points before getting hurt. The crowd, which had a theme of red and white, had a big effect on the game.
"The crowd plays a huge factor in the game, we feed off of their energy," said J.P. Hoffman, junior forward. "I love having the student section."
The game had a close ending, as it was back and forth for the final stretch of the fourth quarter.
"It was a seesaw battle in the fourth quarter,' Williams said. "Tomas Misciunas had an and one to give us the lead with one minute left. Misciunas, Yaeger, and Jack Hoiberg made clutch free throws at the end [to win it]."
Central spent a lot of time preparing for this huge rivalry game. With intentions of winning, Head Coach Nick Latorre made sure the team was ready for success.
"[Primarily] we watched film to get ready for the game," said Anthony Brescia, senior forward. "We expected we were going to play well because of the crowd, [the question] was if we were able to execute."
The teams know each other well, as they play each other multiple times in a season.
"I think the two games [we played against Lyons Township] were so similar," Hoffman said. "Both teams played really hard and when that happens you get a close game both times."
Thanks @RedDevilSpirit. You were the difference tonight! pic.twitter.com/d2CqUIeTJj

— HC Basketball (@HCRDBasketball) February 4, 2017
//platform.twitter.com/widgets.js
The team will end the regular season on a long road trip, starting at Glenbard West on Feb. 10, and will finish off at Downers Grove North on Feb. 17.
Leave a Comment
About the Contributor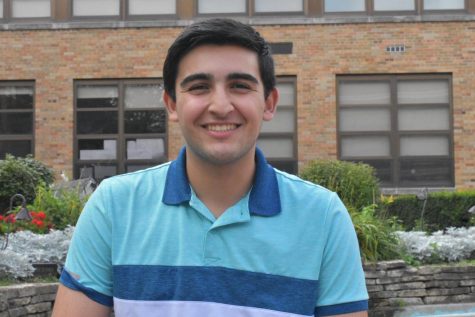 Ali Ardehali, Section Editor
Ali Ardehali, section editor for sports and A&E, is a senior who dedicates much of his time keeping up with the sports world. Despite recent struggles...