Athletes commit to their colleges on National Signing Day
On Feb. 1, 12 senior athletes participated in National Signing Day for their respective sports. The event was held in conference room 124 and attended by the athletes, parents and friends.
The signature of the athletes confirms their commitment to attend and play for that college next year. The seniors included:
Jacqueline Ahn, Tennis, Skidmore College
Josh Bean, Football, Columbia
Mia Chiappe, Swimming, Denison
Brian Foley, Football, Holy Cross
Megan Guenther, Tennis, MIT
Niko Ivanisevic, Football, Princeton
Nick Midlash, Cross Country and Track, Grinnell
Erika Oku, Tennis, Kenyon College
Erin Otto, Soccer, Carthage College
Elle Schaefer, Basketball, Carnegie Mellon
Jake Simon, Lacrosse, Arizona State
Connor Wilke, Soccer, Wisconsin-Platteville
Across the country, athletes are signed on Feb. 1 to their colleges, but have spent sometimes up to all four years of high school being scouted and weighing offers from various schools.
"It was hard deciding where to go," Schaefer said. "In early September I had only narrowed my choices down to seven schools I was seriously considering for both academics and basketball."
HCHS Athletes that signed and were recognized this morning. pic.twitter.com/JTD4CPMnPx

— Dan Jones (@RedDevilsAD) February 1, 2017
Schools commissioned by the NCAA recruit athletes early on in order to ensure they have the most successful team lined up in the future. Divisions I and II are welcome to give athletic scholarships, while Division III does not.
In choosing their schools, it was really important to the athletes to find a good fit and a coach and players they're excited to work with.
"I chose Carthage because I can see myself there even if I was not playing soccer, but I chose that soccer program because of the sincerity of the coach and dynamics of the team," Otto said.
As with all college decisions, physically attending the campus also helps to influence ones final choice.
"On my official visit to CMU, it just felt right and I knew it was a perfect fit for me. I love the coaches, teammates, students and staff there, and know that I will be challenged in the classroom as well as on the court," Schaefer said.
Most athletes agree the training it takes to receive this recruitment is long and strenuous, but well worth it for the students whose true passion lies with their sport.
"I have been playing lacrosse for eight years, and I didn't always plan to play in college but it was definitely a dream of mine," Simon said. "Being able to live on my own and take care of myself not only in the classroom but on the lacrosse field will be a challenge but extremely fun."
Athletes who choose not to commit but still want to continue their sport can also find opportunities in intramurals, clubs and walk-on spots.
Overall, the magnitude of players and the prestige of the schools these athletes are attending is a nod to the hard work athletes put both on the field and in the classroom.
Leave a Comment
About the Contributor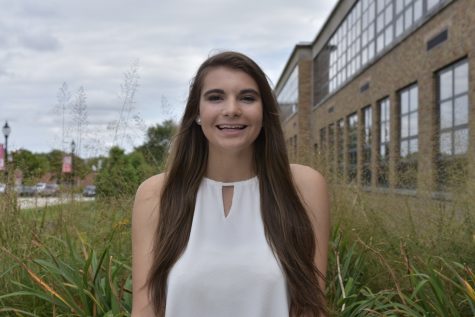 Shannon Ging, Sports Editor
Senior Shannon Ging loves writing for Devils' Advocate, especially if it is about sports. She spends most of her time cheerleading, whether it's for the...