Boys basketball team takes on District 86 rival
The boys basketball team traveled to Hinsdale South on Friday, Dec. 1 and lost 60-44. The game, for the most part, was closer than the final 16 point deficit.
The team got off to a solid start and was leading for a large part of the first half. Through half time, the Devils were leading 24-21, and Ryan Isaacson, sophomore, led the way with eight points.
The Red Devils were still in the game when they entered the final quarter, as they were only down 39-36. However, South went on a scoring run during the fourth quarter which propelled them to victory.
The final buzzer sounded and South won 60-44. The Red Devils were outscored 21 to 8 in the fourth quarter.
"We played three good quarters of basketball. We didn't execute in the fourth, and that's why we lost," said Trevor Hamilton, senior guard. "We're a young team, and we're only going to get better throughout the year."
The team managed to slow down Zion Griffin, South senior who was guarded by Matt Rush, junior, throughout the game. Griffin is a ranked #77 in the nation and #2 in Illinois, according to 247sports.com. Griffin boosted his recruiting stock this summer during Amateur Athletic Union basketball, and he received an offer from the blue-blooded University of Kansas but committed to Iowa State University.
"Everyone was expecting [Griffin] to put up big numbers, but with Matt Rush defending him, Zion wasn't able to score the ball nearly as well," said Emmett Wilson, junior guard.
The team's record is 1-4 after the loss to Hinsdale South and their next game is home against Proviso West on Friday, Dec. 8.
"We're expecting to play a very athletic Proviso West team, so we're going to have to attempt to slow the game down and play our type of basketball," Wilson said. "We're definitely looking forward to playing a team in our conference and getting a win."
Leave a Comment
About the Contributor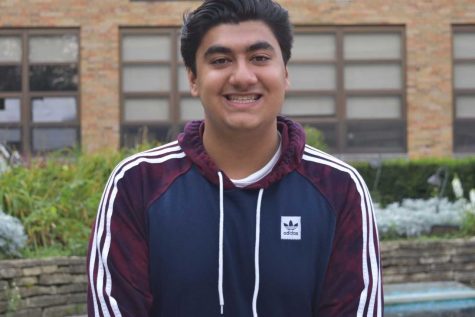 Kabir Sawlani, Editor-in-Chief
Kabir Sawlani is a senior who enjoys traveling and listening to hip-hop and alternative music. When he isn't cheering for the Cubs or the Bears, you can...