Boys basketball takes on York
The boys basketball team took on York High School on Friday, Jan. 12 at home. The team lost 53-49 in a hard-fought game.
The Red Devils had a rough first quarter as they scored only one field goal, falling behind York with a score of 8-3 after the first quarter.
The team improved in the second quarter as they scored eight more points, but they entered half time down 22-11.
York was able to shut down the Red Devil offense by successfully running a 3-2 zone, disallowing the Red Devils from getting to the rim and making them settle for low percentage shots.
The team's defense improved in the second half, and it allowed for a comeback attempt. The team knocked down seven three-pointers in the second half but still ended short. Everett Eck, senior guard, scored seven points in crunch time. The team brought the deficit down to two points twice in the fourth quarter but could never take the lead.
"We did fight back," said Coach Nick Latorre in an article on the dailyherald.com. "I thought we were passive in the first half, and I thought it cost us. We talked about being aggressive against the zone, and in the first half, we weren't quite aggressive enough."
The difference in between the two teams was how they shot from the free-throw line. In the final three minutes of the game, York went 11-13 from the charity stripe, whereas the Red Devils went 2-10 the entire game.
With this loss, the Red Devils' record dropped to 4-10 overall and 2-2 in their conference.
"We have a lot to play for still," said J.P. Hoffman, senior forward. "There are ten games left in the regular season, and we are still alive in our conference."
The team's next game is Friday, Jan. 19 at Downers Grove North at 7:30 p.m.
Leave a Comment
About the Contributor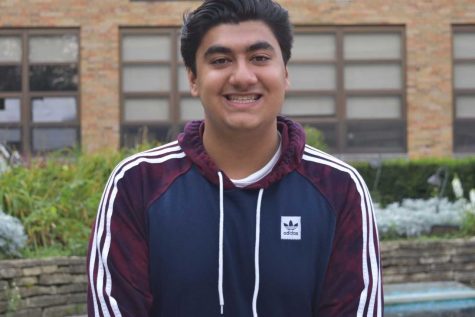 Kabir Sawlani, Editor-in-Chief
Kabir Sawlani is a senior who enjoys traveling and listening to hip-hop and alternative music. When he isn't cheering for the Cubs or the Bears, you can...