Boys swim and dive team places third in state
The boys swim and dive team traveled to Evanston Township High School on Thursday, Feb. 22 to compete for the IHSA State title. The team placed third overall behind New Trier and Lyons Township.
The team arrived in Evanston on Thursday morning and returned on Saturday after a two-day meet. The competitions on Thursday and Saturday served as qualifiers for Saturday's finals for the State title.
After performing well in the qualifiers, 10 team members made it to Saturday's final, including Donovan Lahmann, junior; Thomas Willemse, senior; Kareem Bitar, junior; Cullen Cochlan, sophomore; Trystan Lundgren, junior; Cole Grosshans, senior; Billy Leader, senior; Andrew La Valle, senior; Eric Miscimarra, junior; and Brandon Glowniak, senior.
The 200-yard freestyle relay team consisted of Leader, Grosshans, Glowniak, and Lahmann, who went on to take first in the individual State event.
"It was amazing to swim my last race as a State champion with three other Clarendon Hills boys and to have my friends and family to support me," Glowniak said.
Additionally, the 400-yard free relay team of Willemse, Leader, Lahmann and Grosshans finished seventh overall in State. Leader placed third and Lundgren finished fifth in State for the 100-yard breaststroke as well.
The team also found success with diving. Miscimarra placed in the top 30 in State for his performance. Miscimarra's weekend ended early since he didn't place higher, but he still made the most of it.
"Since I got eliminated after State [preliminaries] on Friday morning, I was able spend the rest of the weekend cheering on my teammates while they swam," Miscimarra said. "At dinner Friday night, Coach Barber said that everyone had to be ready to swim the [400-yard freestyle relay] the next day, and he obviously wasn't talking about me when he said that because I'm a diver, and I'm pretty bad at swimming. The next day, as a joke, I put on my swimsuit and warmed up with the swimmers. So technically I can say that I swam at State."
The team finished with 116.5 points overall which earned them the position of third place.
Red Devil Nation came out to support their swimmers in Evanston as well.
"The atmosphere of the meet was electric. Hinsdale Central had one of the largest fan sections there," Miscimarra said.
Although the boys swim and dive season has come to an end, there are still other opportunities to catch Red Devils in the water. The boys and girls water polo season is starting up, with the girls' first home game on Wednesday, March 7 and the boys' first home game on Monday, March 12.
Leave a Comment
About the Contributor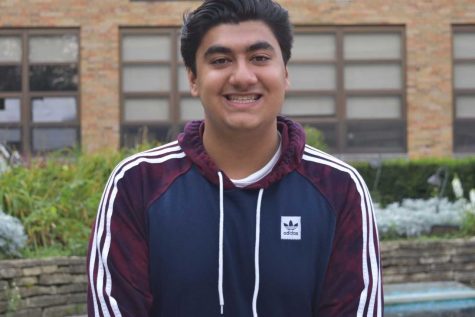 Kabir Sawlani, Editor-in-Chief
Kabir Sawlani is a senior who enjoys traveling and listening to hip-hop and alternative music. When he isn't cheering for the Cubs or the Bears, you can...