Starbucks Reserve: More than a caffeine run
Hang on for a minute...we're trying to find some more stories you might like.
Although the Starbucks Reserve on Main Street in Downtown Naperville has been open for a while now, it's urban ambiance and open space continues to draw in many new customers. This particular Starbucks is called a Starbucks Reserve, as indicated by the star on the outside of the building. The Naperville location is just 25 minutes down the highway, making it the closest location to us, but there are four more dispersed throughout the Chicagoland area.
A Starbucks Reserve is a totally different experience than just your average Starbucks. In most Starbucks locations, the space is loud and crammed, with limited seating. What makes a Reserve special is that it turns the process of getting coffee into a bar experience. You can take your drink to-go when you order at the counter, but you also have the option to sit down at a bar, chat with your friends, and get served coffee drinks periodically. It makes the process more than a caffeine run; it's a new social experience. This Starbucks was twice the size of the normal ones, so it wasn't crowded at all, and there was plenty of seating for hanging out or doing work.
In addition to that, Reserves have different drinks than what you can get at a normal Starbucks. Although you have the option to get your normal macchiato or hot chocolate, the Starbucks Reserve serves cold-brew coffee floats, nitro coffees, and specialty teas. The coffees and teas don't come in your average plastic cup; instead, they come in beautiful black mugs when you order "for here" coffees. The to-go cups are super cute too, though.
I walked into the coffeehouse at 5 p.m on a Saturday, and there were only two people in line in front of me. For how amazing the Reserve is, it wasn't that packed; however, I've heard from others that it can get crowded depending on the day and time. The first thing I noticed when I walked in was the amazing urban vibe. I felt like I was in the coolest coffee house in the city. The lighting was perfect and not the normal fluorescent. The floor was a dark hardwood floor, and the chairs and bar stools were a dark gray, all adding to the super-sleek look. Additionally, although it was filled with people, the Reserve wasn't super loud; the coffee machines were all quiet, and it was easy to hear the person I was carrying on a conversation with.
My friend ordered a nitro cold brew, a cold (yet not iced) coffee charged with nitrogen to give it a rich, creamy texture. She kept saying how smooth the coffee was and how it didn't have the normal bitter taste of cold brew. Nitro coffees are more caffeinated than normal coffees, but it didn't make her shaky.
"[The nitro coffee] was so good. There was foam at the top, and the coffee taste wasn't too strong, so the drink itself felt more enjoyable. I didn't even have to add crazy amounts of sugar or cream to it," said Shayaan Borok, junior.
In addition to that, Reserves serve nitro teas, more cold, but not iced, drinks. My other friend tried the "Nitro Dirty Chai," which also had froth at the top, and she added a Splenda to it for sweetness.
"[The Nitro Dirty Chai] was honestly kind of watery, so I wasn't the biggest fan. I couldn't really finish the drink, but the chai tasted good, and the foam was a fun part to the drink," said Ava Gaddis, senior. "I wouldn't recommend this drink in particular to people, but there are other really good ones on the menu."
I got the "Hazelnut Nitro Latte," a warm latte served in the most amazing black mug on a tray. The latte itself didn't even taste like coffee that much, which I was thankful for; it didn't have the same level of bitterness. It was just the perfect blend of coffee and hazelnut. Again, the nitrogen made the coffee itself very smooth. The coffee was warm, not hot or scalding, so I could drink it without having to freak out about burning my tongue. I'm not the biggest coffee fan, but I would 100 percent recommend this to anyone I've ever met.
For how amazing this Starbucks was, I was surprised that it wasn't that busy. The baristas were super nice, and the waiters at the bar came to my friend and I every 20 minutes asking us if we wanted more coffee or water.
"I think [the Starbucks Reserve] is a really cool place to hang out and study. It's not that far which is great," said Stuti Mundada, sophomore.
Most students like to hit the Starbucks in downtown Hinsdale to study or hang out, however, the Starbucks Reserve is not that long of a drive down Ogden or I-88, and it's the perfect place to grab a coffee, get comfortable, study, talk with friends, or just enjoy the experience.
The Naperville Starbucks Reserve is located at 203 S. Main St., Naperville, Ill. 60540.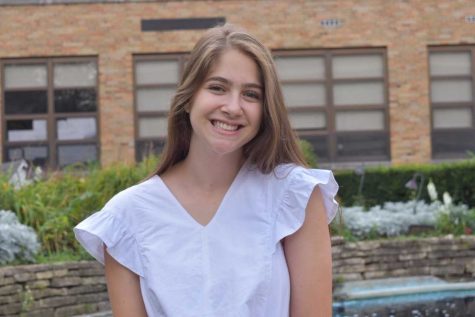 Thea Sankari, Section Editor
Thea Sankari is a senior whose sense of humor consists of nothing but dad jokes. You can catch her in the band room or binge-watching "The Office". She...