Varsity football works quick against Proviso West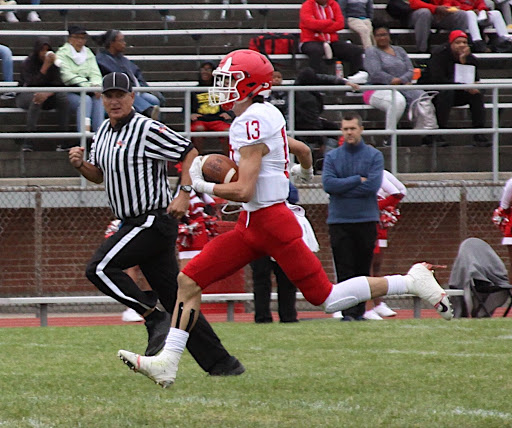 The Varsity Football Team traveled to Hillside, Ill. on Saturday, Sept. 29 at 1 p.m. and made quick work of the Proviso West Panthers.
It took about only one minute after the opening kickoff when Central running back Nick Franko, junior, took a hand off on the fourth play from scrimmage and swept around right end and down the sideline for a 33 yard touchdown run.
Senior kicker Zach Drescher added the extra point leading off 7-0.
The Red Devil defense held strong during Proviso's first offensive series. Central defensive end Lucas Schwartz, junior, had a sack on one play.
Proviso West punted but Central fumbled the punt and gave the ball back to Proviso. The Central defense once again held tough though.
On the Red Devil's next series, it only took 2 plays for Central to score. Nick Beaulieu, senior, gained 20 yards on a trap play, and, on the next play, Franko again swept right for a 42 yard touchdown run. After the extra point, Central was up 14-0 with 5 minutes remaining in the first quarter.
"Our approach was to prepare for [Proviso West] like we would for any other team and don't take them too lightly," Franko said. "I just ran as fast as I could to the outside and then the blocking of our receiver, and the offensive line took care of the rest of it."
Central got the ball back and only took two plays to score again.
On the first play, Matt O'Neill had a 6 yard gain on a sweep left. The next play, Matt Rush, senior quarterback, connected with Braden Contreras, junior wide receiver, hitting him in stride on a post route to make the score 20-0. Drescher added another extra point.
Not long after Central stopped Proviso on another series, the Red Devils got the ball on the 49 yard line with 5:57 left in the second quarter. This time, their touchdown drive took 1 play and 9 seconds. A repeat from before where Contreras sprinted past his defender and Rush hit him perfectly in stride. Contreras raced the last 25 yards to the end zone for the score.
In one drive, Rush floated a pass to Connor Kroeger, senior tight end, who got past the Panther defense, hauled in the pass and raced to the end zone for the 41-yard score.
Central closed out the first half with one more touchdown pass, another Rush to Contreras connection. This time a yard touchdown. It was their third touchdown of the game.
Contreras finished with 3 receptions for 89 yards and 3 touchdowns.
"During those moments I just wanted to help my team," Contreras said. "In my mind, I was thinking how grateful I am to have a team and teammates that trust me to make the plays that we needed in order to win."
Central led at the half 41-0.
Coach Dan Hartman started the second half by switching up the lineup. Abiti McGann, junior running back, had 7 carries. Central would close out their scoring with Michael Brescia, sophomore backup quarterback, to McCabe Quast, junior tight end, for a 49 yard touchdown.
Later, Proviso West got their lone touchdown on a sensational run from near midfield by Brandon Smith, senior power back. The Panthers added the 2 point conversion to make the score 47-8.
Central finished the game by putting up seven touchdowns on only 22 plays: 10 first downs and only 1 penalty for 5 yards. Matt Rush was four for four, with four attempts and four touchdowns, while Brescia was one for one with one attempt and one touchdown.
"I think that the boys are really focused no matter who they play and they do a good job each week each and every day," said Coach Matthew Mcniff, who coaches wide receivers. "They're there for each other so it's definitely good to see the boys battling every minute and every second of the game."
The next game for Hinsdale Central, (5-1) is against Glenbard West (5-1) on Friday, Oct. 5 at 7 p.m on Dickinson Field.
"The game is going to be tough all around and I'm guessing it won't be all one side of the ball," Contreras said. "We are going to need both sides to play their best the whole game in order to win."
For more football updates, check out the Hinsdale Central football team on twitter or their website.
Leave a Comment
About the Contributor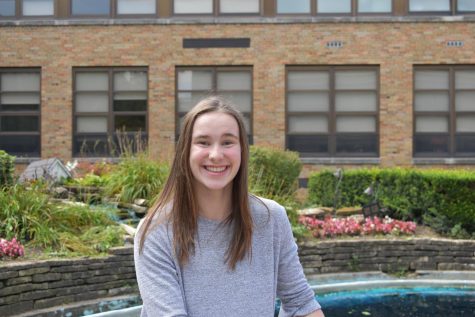 Rachel Wagner, Writer
Rachel Wagner is a junior writer for the Devil's Advocate. When she's not covering stories she can be seen at home drawing, writing, rewatching episodes...