Varsity football dominates Lyons Township
The Varsity Football Team made the short trek to LaGrange, Ill. on Friday, Oct. 12 at 7:30 p.m. to battle its West Suburban Conference rival, the Lyons Township Lions, on a crisp, 33-degree night. They ended the game with a 49-6 win.
Central came out strong right from the start. After the Lions started the game with a flagged onside kick, the Red Devils had possession of the ball on the Lions' 48 yard line.
Matt Bobak, senior running back, picked up 14 yards rushing on the first offensive play of the night and followed with five more carries during the drive.
Mixed in, Mark Skokna, junior running back, had a 12 yard carry. Matt Rush, senior quarterback, completed the drive with a six yard touchdown pass to Bobak bringing the score to 7-0, Central leading.
During Hinsdale's next possession, on a third and 10, Rush delivered a clutch completion to Braden Contreras, junior wide receiver, along the right sideline past the marker for a first down.
On the next play, Rush then dropped back and launched a long pass to the end zone. Contreras leaped up with an LT defender draped all over him and hauled in the pass for another Red Devil touchdown. It was now 14-0, in Central's favor.
After the Central defense shutdown LT with another three and out, the Red Devils took over the football on the LT 40 yard line. Rush completed a pass to Connor Kroeger, senior, over the middle for a 13 yard gain.
That set up a Zach Drescher, senior, field goal to put Central up 17-0 with 2:29 left in the first quarter.
The offensive linemen Roy Fuller, senior, Joe Monahan, senior, Brendon Passarelli, senior, Kiran Amegadjie, junior, and Michael Dunphy, junior, gave Rush an extra cushion against the Lions.
"I thought everyone came ready to play," Rush said. "The offensive line did an amazing job blocking and the skilled position players were making plays all night."
In the next quarter, after a couple LT first downs, Hinsdale had possession of the ball after Cruickshank intercepted an LT pass. After a couple offensive plays, Rush again connected with Contreras. This time Contreras sped past his defender and Rush hit him for a 68 yard touchdown. Central was up 24-0 with 10:24 left in the second quarter.
Later, Central had LT pinned deep in their own territory when on a third and 17, Phillip Borhani, junior playing defensive end, pressured the Lions' quarterback who set up a screen pass. Schwartz read the play, intercepted the ball, and ran into the end zone for a touchdown. With 9:13 remaining, it was 31-0.
"LT has been known as a passing team so we definitely needed to put more defensive backs on the field against them," said Mr. Dan Hartman, head coach. "They did a nice job; they were able to get pressure with the three defensive linemen."
Rush continued to efficiently pick apart the LT defense with completions to Contreras and Bobak. He then capped this drive with a completion to Skokna for another touchdown. Central closed out the scoring at halftime with a 41-0 lead.
In the second half, Drescher added a field goal. Later, Michael Brescia, sophomore backup quarterback pitched to Bobak, who dashed down the right sideline for his second touchdown of the night.
Brescia completed the two point conversion pass to make the score 49-0.
Bobak finished with 94 yards rushing, while Rush again displayed incredible accuracy completing 12 of 15 passes for 229 yards and four touchdowns. Contreras had six receptions for 185 yards.
Their next game is against crosstown rival Hinsdale South on Friday, Oct. 19, at 7:30 p.m. at Dickinson Field.
"The good thing about next [game] is that we're playing Hinsdale South so the kids get up to that game," Coach Hartman said. "Hinsdale South always plays extremely tough so we'll be able to stay focused, and the other thing is if we win, we have a home playoff game, and if we lose, we go on the road, so that's another thing to keep them focused."
For more Hinsdale Central football updates, check out the Hinsdale Central football team on Twitter or visit their website.
Leave a Comment
About the Contributor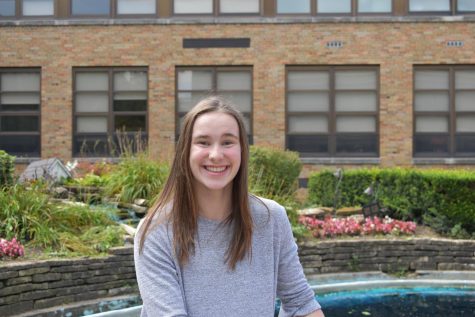 Rachel Wagner, Writer
Rachel Wagner is a junior writer for the Devil's Advocate. When she's not covering stories she can be seen at home drawing, writing, rewatching episodes...