Art department showcases best of semester
From Monday, Dec. 3 to Friday, Dec. 7, the art department displayed the annual semester art show in the Art Gallery (room 216). This art show is of the best work students have produced this semester in every art class, which ranges from graphic design to clay.
All of the art students submitted at least one piece of art for display in the gallery. After students submitted their selected work, each class voted on class awards to give students. These awards consisted of "Most-Improved Artist," "Best Studio Mate," and "Best of Class." Visitors can see these awards at the art show, as each piece that received an award has an award sticker on it.
Later this week, all students will vote through a survey for the art piece that should receive the "Best of Show" award. However, it will be after everyone is able to see each piece of art as each piece is unique.
"Each student has a story to tell through their work that will resonate with the visitors to the gallery," said Ms. Laura Milas, Art Department Chair. "My favorite part of the show is the pride that the art students and teachers take in presenting each work to the public."
The art displayed in the show ranges from oil paintings to jewelry to photographs. Each art piece is different in its own way. Some paintings display scenes of specific places while other sketches are more distorted, such as one with twisted hands grabbing each other by Lara Hayes, senior, named "Many Hand". No matter how complex the art piece, anyone is able to appreciate the hard work and difficulty in creating each piece.
Also, students and faculty members can bid on art pieces that the department displayed from the Homecoming Art Show. These pieces consist of stools and a shoe, which represent pop art.
By the entrance, there is also a book in which viewers can write compliments and other comments about the art for the artists.
"The process of creating the painting was difficult and I'm glad I had the chance to show others the hard work I put into creating that painting," said Nora Ewing, junior artist in Studio Art Honors.
Ewing created a painting titled, "Florida Sunset", with acrylic paints. The painting is of a vivid sunset from the perspective of a dock over a lake.
If you don't get a chance to see this semester's art show, the Honor Art Show will be displayed in the community room from Monday, Dec. 10 to Friday, Dec. 14.
Leave a Comment
About the Contributors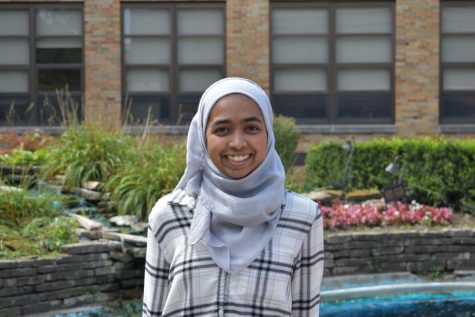 Saba Ali, Editor-in-Chief
Saba, senior, is a chocolate vacuum (basically eating any chocolate in sight) and a nap queen, who can take a nap virtually anywhere. She loves Ben &...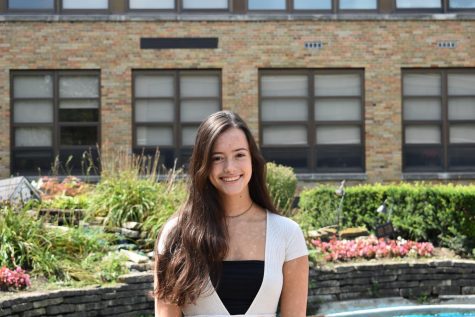 Marelena Halikias, Photographer
Marelena Halikias is a senior photographer for Devils' Advocate. She can commonly be found crying over reruns of The Joy of Painting, offering to sell...